Today, I'm calling Jana Winderen. Born in 1965 and based in Oslo, Norway, Jana straddles the fields of art, music and science. Her sound installations encourage us not just to hear, but to listen.
Jana and I first met in Oslo in 2012 when I was researching the sound art community in Scandinavia. I was struck by the intensity of her commitment to discovering the aural dimensions of natural landscapes that tend to be extremely difficult to reach. She travels to the ends of the Earth, often alone, where she records nearly imperceptible sounds using an arsenal of the most sophisticated professional recording gear. She might drop a microphone inside the crevice of a gigantic glacier, or hundreds of feet deep into the frigid Arctic Ocean, or even into Manhattan's East River, where she heard the sounds of fish communicating.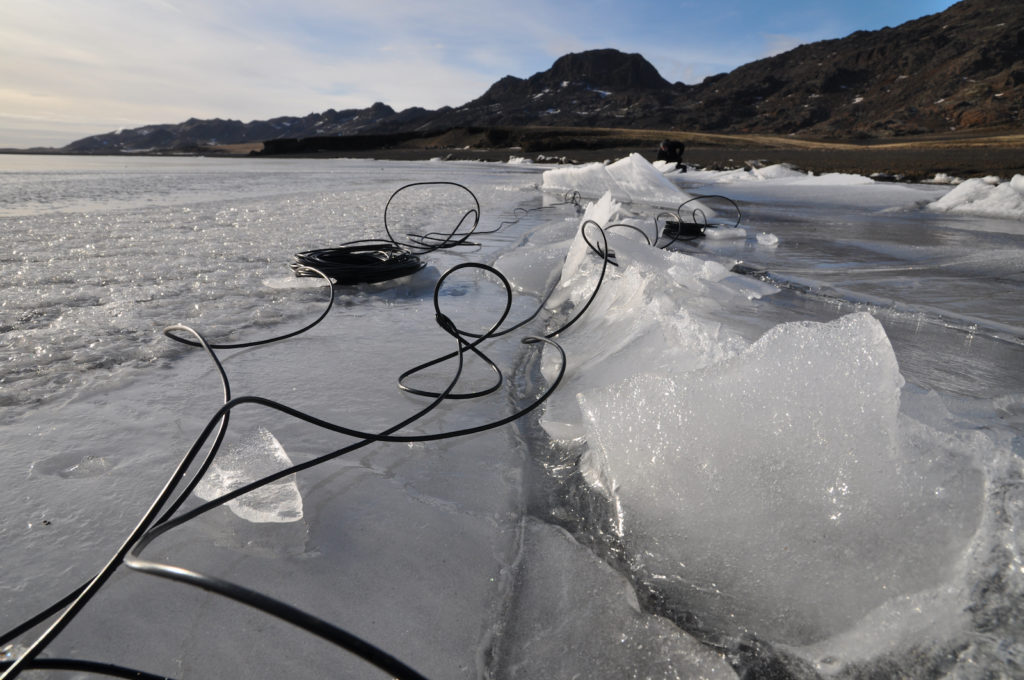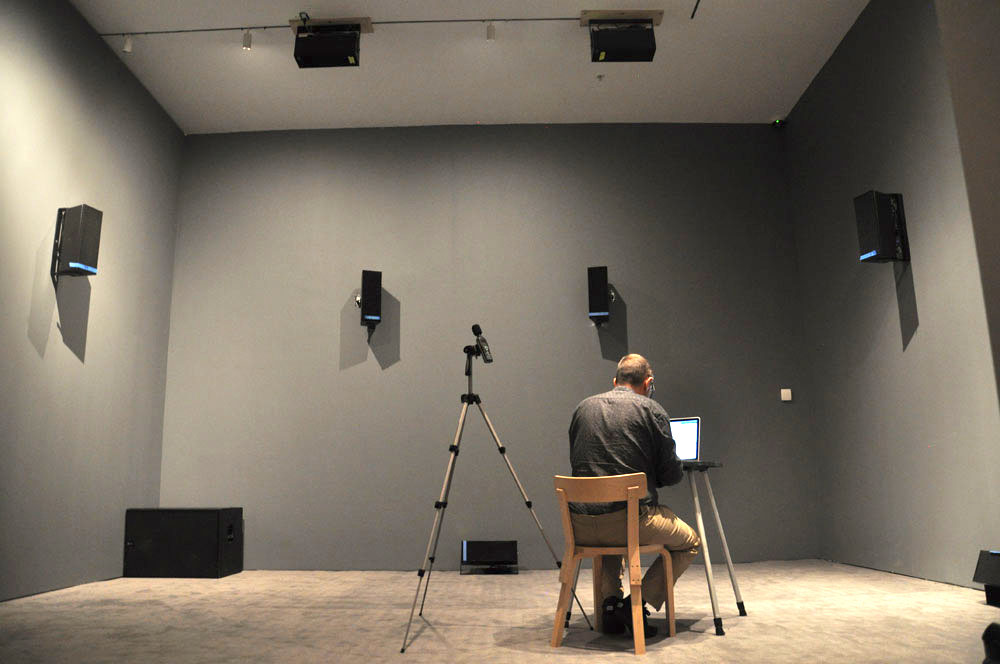 Our meeting led to the premiere of Jana's sixteen-channel, twenty-minute Ambisonics work Ultrafield. Her installation premiered in "Soundings: A Contemporary Score," an exhibition I organized at the Museum of Modern Art in 2013. Visitors entered the darkened installation and stood or sat down on soft cushion seating in the middle of the nineteen-foot square space, surrounded by sixteen inconspicuous ten-inch-high black speakers mounted from floor to ceiling on the four walls. Jana's composition was based on her recorded sounds, including those made by bulldog bats with echolocation in ultrasound range. Without the visual stimuli usually encountered in a museum, the audience paid close attention to the sounds Ultrafield had to offer, shushing anyone who dared to speak.
Aside from presenting her work in institutional and public spaces, Jana releases her audio compositions through Touch, the experimental British music label. She trained in mathematics, biochemistry, and fish ecology at the University of Oslo before receiving a B.A. in Fine Art from Goldsmiths, London.
Jana, thanks for joining me.
Jana Winderen: Hi, Barbara. It's great to be here.
[Continue reading for full transcript.]
Transcript
BL: I'll start with a few questions. I'd love to know if you remember your earliest experience thinking about sound as art.
JW: When I first started to think about sound as art in terms of my own practice around 1992, I was thinking more about the absence of sound. That's when I was thinking about how I would use sound myself, as art, in terms of an installation. But to be honest, I'm not really quite sure of the date.
BL: Were you thinking about sound because in Norway cities like Bergen and Oslo have very active sound art communities? Was it because of the music community or the sound as art community?
JW: When I returned to Norway in 1993 after I finished my studies at Goldsmiths in London, there was a really active sound community in Bergen, where at that point I moved to. It's the second largest city in Norway. It was a really good place to collaborate with people. The city had a great collaborative spirit and many festivals. People were working together across the fine arts and music, such as jazz, more so in Bergen than I experienced in Oslo at the same time. I actually lived and worked closely with musicians and sound producers in Bergen for about seven years, before I moved back to Oslo.
BL: The immateriality of sound seems to suit your interests, the way sound tends to be perceived intuitively in advance of the workings of the mind. Is that accurate?
JW: Yes, sound is a very physical medium. When I decided not to make more sculptural, space-occupying objects, I didn't really want to engage in the production of objects, so I started to work with sound. Sound is a very present and physical medium. Still, it doesn't take up any space, and it goes very directly into your emotional, pre-reflecting state. Sound is very receptive to intuitive associations, and creates a kind of space in itself without actually taking up space. So, not just by working with many speakers all around, but also with the sound mix you make and create space with different frequencies, and the different sounds that you collage together. You can create this space, which is also not necessarily in the physical space, but it can be perceived as space, so to say. Also, it's very open for telling stories, not necessarily a very direct story that has a kind of concrete narrative to tell, but one on a more abstract level.
BL: Please tell me about the sounds you gathered for your 2013 installation at MoMA, Ultrafield. What sounds did you record and why did you want to capture them?
JW: I was thinking early on for that piece, particularly about bats and their echolocation that they do in frequencies we cannot hear. They are operating in the ultrasound range, which is above 20,000 Hertz, higher than we can actually perceive as sound ourselves as human beings. I wanted to give attention to these creatures that perceive sound differently than humans, and they are operating out there. We can't hear their sounds, but they are there. But if we slow down recordings of their sounds, we can hear them. If we are frequency dividing or using the heterodyne technique, we can actually simulate the frequencies in the area they operate in to our audible range, in real time out in the field.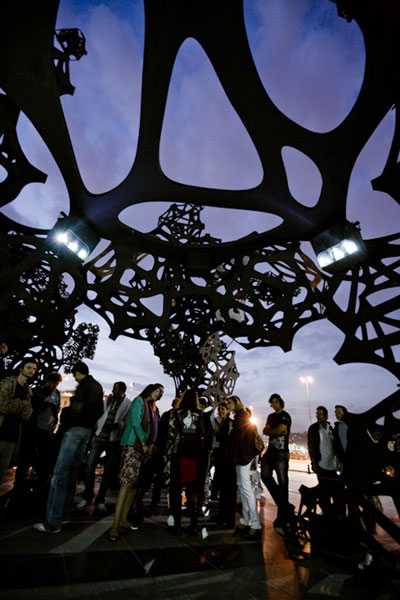 Human beings can hear from about 20 Hertz to 20,000 Hertz. But my own ultrasound level is much lower because I'm getting older, and I'm losing the top bit. I can maybe now only hear up to 16,000 Hertz. Anyway, I wanted to create a space inside of which you had the foraging at night of the bats overhead. In the middle of the composition, I also wanted to create a sense of the surface of a body of water, so that from underneath the membrane between air and water was the echolocation sound of dolphins. They can echolocate to above 100,000 Hertz. But the echolocation sounds that I used from dolphins were ones I had recorded and were in audible range. They were doing echolocation, like sending out sound bursts and then getting back the reflection, the echo. They are able to say something about what is around them, if they're hunting, or if they are orienting themselves, the same as what the bats are doing in air.
In the middle of the Ultrasound installation composition, the listener was hearing what was at the surface of water. As I was about to do the show with you, I was in Panama and met these bulldog bats that are actually echolocating on top of the water surface. They are able to sense the movement of a fish below them by the echo, so they grab the fish through the water surface. I really wanted to have this above water and under water collage, as if you were in the center of, or inside the interior space of the installation created by the sixteen speakers. I had that in mind. I had many other recordings of different types of bats and also of fish and other underwater creatures. I placed these sounds "under" the listeners in the room and had the "above" water sounds above them. Listeners were sitting in this sort of sphere of sound, both above and underwater.
BL: Because the sound of the installation was indeed very spatial, it felt as you progressed from under the water and then above.
JW: I really wanted to give that sense. Of course, we are always listening to what's all around us, as we do in our daily life.
I just wanted to lower the lights and have the sound composition all around you, underneath and above. It's not that I just wanted to send the sound around, but to situate the placement of the sounds so you felt you were inside of this environment. I'm not trying to represent what I hear out there. Obviously, it's not even possible, because I need to slow down the sounds from the bats that are inaudible in order for them to be audible to us.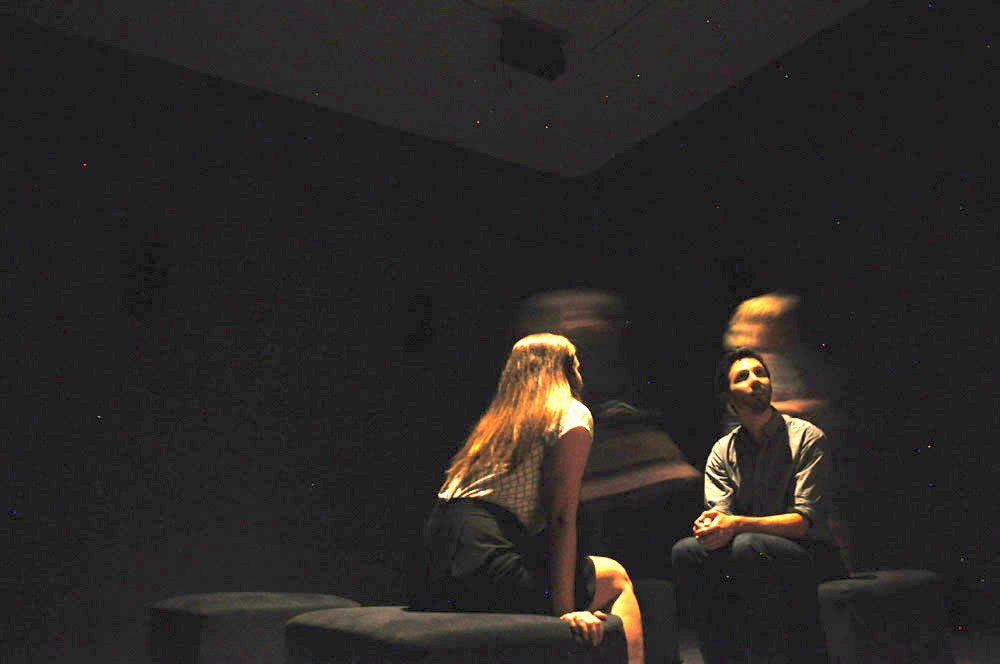 I am processing the sound and collaging it, creating a different environment than you would ever be able to hear outside. I'm hoping that people become intrigued by that and start to listen themselves, noticing, and maybe even to use a bat detector, becoming aware of all these creatures making their sounds, and of their environments. I think it's very important.
BL: Perhaps now, if there's a way to do it, could you define two terms that are not commonly used: echolocation and ultrasound. First echolocation, which would be the navigational sound that sightless bats make, such as the sound bouncing off the water surface?
JW: Yes. The bats make screams at a very, very high, intense rate. They have a very, very fast muscle which contracts their larynx, their voice box. I think it's the fastest muscle that we know, which bats use to make their screams. They listen to the echo of it and then can decipher. For human beings, I guess the best way to think about it is as an image of what is in front of them, such as the insect on the water surface, in this case for the bulldog bats. I believe that they are perceiving it as sound echoes and are not necessarily thinking about it as an image. This is echolocation and is best known when we use ultrasound scanning of a fetus, for example. Then you will get an image. It's because you get the echo that can then be printed as an image. But I believe that the bats are actually listening to the echo of the shape, the surface and inside of their prey, for example, a mosquito.
I think this is quite fascinating because, as human beings, we are very easily taking and turning things into images, but maybe not the bats. But the dolphins are doing that.
With infrasound, we have the really low sounds below 20 Hertz, which we cannot hear but we can just feel really, really low, deep, deep sounds. And we go through all the frequency spectrum where we find the different voices. If you think about piano, you think it goes up to higher and higher and higher and higher frequencies. At about 20,000 Hertz, we can no longer hear it.
But a lot of creatures, like your cat or dog, rats in your basement or bats that are hunting insects, they can hear and also produce sound in this range. Some insects can hear ultrasound, but they don't necessarily produce it, but they need to hear it in order to hide from the bats.
BL: You often record out in the field alone. You have described your compositional methodology as blind field recording, meaning that you're open to chance. Could you tell me more about this methodology?
JW: In terms of how I go out there, it is something that takes a lot of time, and takes a lot of concentration and focus. Of course, if you go together with somebody that is not also recording, it takes a long time. It's easy for people to get restless or they get cold. Quite quickly people get cold and start to talk, or they start to move around. There is a reason for working alone, because I can also be more relaxed in the listening myself. But if you're with somebody with the same aim, we can do it together. People that are more used to listening, this is also quite cultural thing. I think that you find it in different places on the planet, where you have a calmer way of being. This is not the kind of rush city existence that city people often have. There are personality differences, as well.
So, I make sure that I am not cold and not hungry, which are all of the practical things that might make it hard to concentrate. I would go in a boat, with somebody or on my own, and go to a site where I would just start to listen. I don't record everywhere. I wouldn't. I don't do that anymore. I do a lot of research before to find out what is actually at a site? What is the issue? Which species will be around here? What are you likely or unlikely to meet? Then I would go with local people who have local knowledge.
For example, recently in Thailand, when we went to a particular site and this particular fish is there, I load my hydrophones, and wow, "it's here," a kind of trumpet, howling sound was really beautiful. It was on open water at high tide, when the moon was close to the earth and the tide was at its largest.
There are a lot of factors that determine when to go and which equipment to take to some places. My hydrophones [microphones that detect sound waves under water] might be too sensitive, or maybe not sensitive enough. So, I will choose different tools for different places. I have a recorder that I can have twelve different microphones or hydrophones attached, so I can record twelve channels at any time. I often have four hydrophones, because I record at different depths, because the sound is different at different depths. And then I would have a sound field microphone that takes up to four channels that are recording in the sphere all around it. I also record above water and sometimes I then also bring an ultrasound detector, if it's evening. I might also then catch what is in the ultrasound range on other channels.
I found that for me the best way is to have an audio bag with a lot of input channels. I can capture a lot at the same time, in different locations. Sometimes it can be seriously really, really hot and warm. It can be difficult, but I just have to sit it out and just be there and focus, because if I'm not focused anymore, there's no point to touch record because I know the recording will not be any good. The way I work, I listen, focused listening all the time with headphones to all the different channels. I wish I were an octopus sometimes, because I need at least eight arms for all the cables, which you need to hold gently and make sure that nothing is clunking or this stuff.
It's quite a balance, a physical thing to work when I'm out in the field. This is more the practical part of it. I consider that the composition starts already out there, in the field. It's the placement of the different hydrophones and the microphones, and it's very conscious decisions of where they are. I listen to what the sounds are like together, already, when I'm out there.
BL: To me you have the technical proficiency of an ambient electronic music composer. The way you say that you're out there in the field, you're recording and you're composing. And the repeating patterns make me think about Steve Reich's early minimal music. I'm wondering, did you listen to that music or what music do you listen to?
JW: I think I'm still learning about a lot of the composers and musicians who are working with electronic music, or were a really long time ago. I've been learning about it and appreciate listening more and more. I wasn't before. It was really a great thing when I met Mike Harding of Touch. He gave me a whole stack of CDs. That was a long time ago now, but I remember that summer as I listened to these different CDs, it opened up a whole new world for me. Philip Jeck, BJ Nilsen, Chris Watson, and Christian Fennesz, many of the artists on the Touch label. This is when I really started to listen in a different way than before.
Of course, as the years have gone by, there are many artists that I really appreciate a lot. I became a part of the project freq_out curated by Carl Michael von Hausswolff, starting some years back now, with Finnbogi Petursson and Jim Thirlwell, and many other great sound artists. It became important for me to understand how frequencies work together, and how you can compose with different layers that are different.
BL: This brings up the amazing person you work with and that's Tony Myatt. He is a sound artist, engineer, and academic who specializes in spatial audio production. I observed you both at MoMA in 2013, when you were there to install Ultrafield. You were mounting your installation for the first time and spent about three days fine-tuning. I'd love to know more about how you collaborate, how you work with Tony. To start, you'd been out in the field and had made the recordings. Then at home in your studio, you thought about and worked on the composition. I'm sure you had already talked a lot with Tony about Ultrafield before you arrived at MoMA.
JW: I knew Tony a bit before we first actually worked together. The first time we worked together was for the Morning Line for TBA21, in Istanbul in 2010. The Morning Line was a sculpture by Matthew Ritchie. The sculpture created six spaces within it, and they each had an Ambisonics setup of speakers, about fifty speakers all together. Tony sent me all of that information in a drawing of how the Morning Line sculpture would be, how the speakers would be outdoors as a public installation. Russell Haswell was the curator for the sound pieces for the sculpture, when the Morning Line was in Istanbul, and he invited me to be part of it.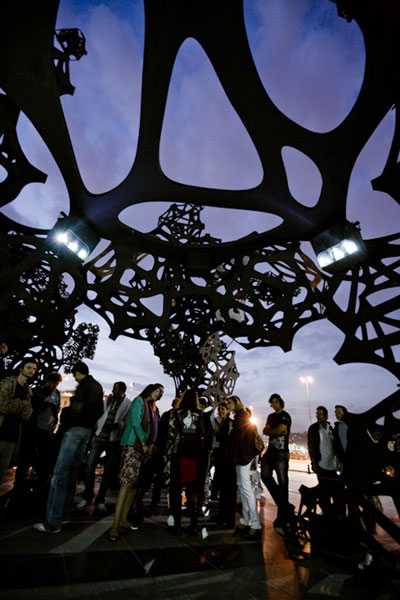 I tried to set this up in my studio. It was really pretty hard, because I knew it was going to be outside, where you would have all the outdoor sounds also present. I had to try to simulate this at home. I composed a piece for each of these rooms, and I had to try to figure out how the speakers would all sound when set up together, because you would be listening to the composition as a whole. I had talked to Tony, and already knew how this would be.
Now Tony and I have been working together for more than ten years. When I work in the studio, I have a decoder [a device capable of converting audio or video signals into a different form] for the setup of eight speakers that I have around me, as I have right here now in my studio.
Tony will make a decoder for me for the situation I set up in the studio. Then we have a decoder made specifically for the space that we are going to.
We did Ultrafield for the show with you, and then we did Dive (2014), a large piece in the Park Avenue Tunnel with sixty-four speakers and sixteen subwoofers.
We had eight sections of speakers that people walked through, which were eight underwater sound environments. We had some test time together so that we able to try out the compositions in a workshop where we set up two of the Dive sections of speakers. It's a very close collaboration together.
For the recent piece that we did as a commission for Audemars Piguet at Art Basel, Miami, we had a lot of time to listen together. We were able to adjust the composition and the placement of speakers, with his calculations and measurements that we had. I think we know each other quite well now, and I'm feeling so lucky to work with him because we kind of make these pieces together.
BL: Remind me, what was the title of the piece you made for Art Basel, Miami in 2019, and what sounds did you record for that?
JW: The title of the piece for the Audemars Piguet commission was The Art of Listening: Under Water (2019). Of course, Miami Basel is a big art fair, a big market. I wanted this piece to be in a space by itself and open for everyone to visit. The installation was in The Rotunda at Collins Park in Miami Beach, with a setup similar to what we had in the MoMA installation.
BL: I know you received a lot of press about the work. People were very taken with the installation. Instead of the glitz and glamor of an art fair, here was your work, The Art of Listening, which did what I had hoped to get across in my "Soundings: A Contemporary Score" exhibition at MoMA, and that was to get people to stop, slow down and really listen.
JW: People were doing that in Miami. Of course, it helped that the lights were low and it was quite cool inside, cooler than outside. And there was a calm sort of feeling. I always work with how people enter a room, as well. It's always important that you offer some kind of time or way to fade out of what's outside and fade into the situation that's the inside, a kind of transition stage to calm down. I always think about that in different ways. For the Miami installation, we had done a lot of preparation work for it. It was concerned with making people aware of the human created sounds that are under water, too.
I had the sound of this massive ship that suddenly moves through the space. I put that into perspective with the very small, delicate sounds that crustaceans, fish, and mammals make under water, sounds they really need to hear from each other in order to mate, orientate themselves, to be in a shoal together. We humans go in with this enormous amount of loud sounds, from even a water scooter. I'm dreading the summer now in Oslo, because it's just going to be so many private boats everywhere, constant engine sounds. I think if people knew how much sound we make, they would think twice about it. I think often people really don't want to be as cruel as this actually is to the underwater environment.
I think if they just knew that fish are really trying to meet each other and communicate. Even in small coral reef areas, the small fish larvae are needing to hear, in order to come back to their known environment. The point of the installation in Miami was really to make people aware of that, and also to sink into the listening experience and just relax into it. I was hoping, and it seemed people spent a lot of time, and they kept coming back. That's always a good sign, even when it was such a hectic place. People kept coming back, and some sat there for half an hour or an hour. I think we all really need that kind of place to just sit. It's just too hectic everywhere.
BL: When we met last summer, when you were working on the Miami piece, you told me that you were simplifying your process. What did you mean by that?
JW: Simplifying my process is when I'm working with the sounds and not pulling too much in, at the same time. To me, let the development of the piece be clear, and maybe not be afraid of things being quieter and simpler, in that sense. The reason for getting good pre-amplification and good equipment is really to make the sound clearly audible. You can hear the fish really well. You can hear the grunts and you don't have a lot of the sound of the actual machine that I record with, and stuff like that.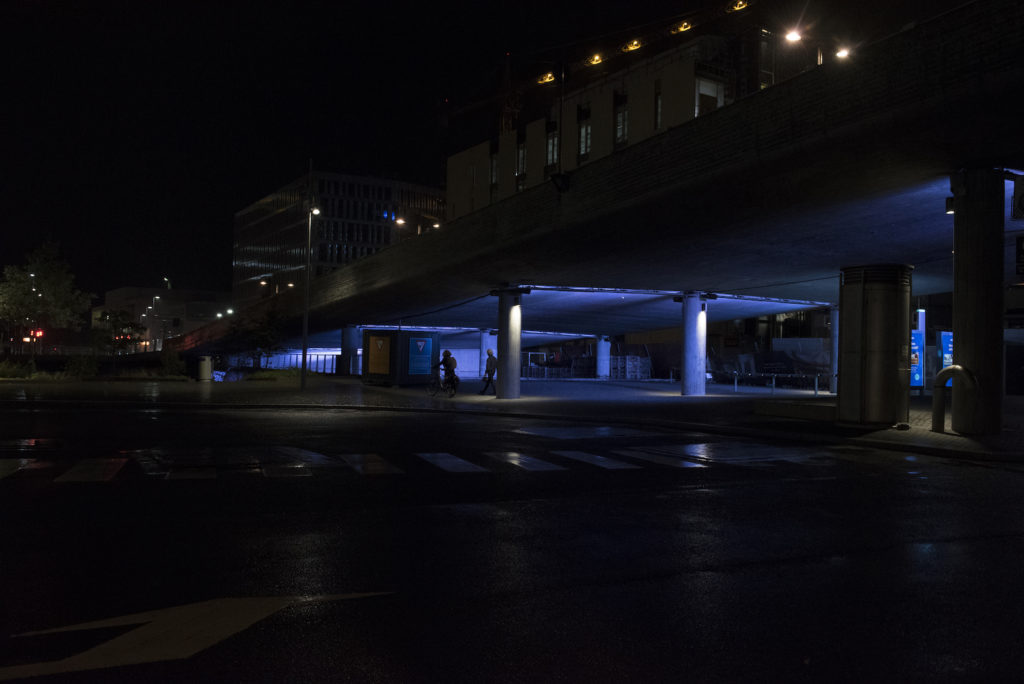 BL: Tell me, how do you choose to make a composition for Touch for the listener who has on earphones, or for someone in an installation who is either sitting quietly or moving about a little bit or a lot? These are two different kinds of listening experiences.
JW: When I make a work to be a Touch release, of course it's a very different listening situation. Some of the releases I have done on Touch were installations before, but I really had to rework the material to become something that makes sense in a stereo mix and heard on speakers and on headphones that I can't control. And I don't want to control it. But it just needs to be okay, also even on computer speakers or on different types of headphones. You need to listen to it and mix it, also with different speakers, and with different headphones on. Of course, it's a very different thing to work on two speakers than it is on a hundred or fifty speakers.
Energy Field was my first full length release on Touch, and was made to be a release from the start. I was thinking of it like a storyline that had a beginning and an end. It was a different way of working than if I'm working towards an installation, which is often in a loop, which doesn't have a beginning or an end, but it still has a dramaturgic development inside of that loop. It shouldn't have an obvious beginning and end, because I want people to choose their own time in my installations. They come in, and they spend as much time as they like, and I never really try to say how long something is. Recently, I've not been telling people how long the loop is, because then they would think, "Oh, I need to sit here for forty minutes." Maybe they want to sit there for twenty minutes and feel good about it, without feeling that they lost half of it. I want people to feel free, in terms of that length. Of course, when you do something for a release—and now I do digital releases for Bandcamp—it will again be a different thing than if I do something for a vinyl. They are different mediums, and different ways of thinking.
BL: I would like to know how you've been in the last few months, as we've gone through this lockdown. What impact has COVID-19 had on your practice?
JW: I used to be traveling and moving all the time. When I would return home, there was always some new travel to plan and prepare for. Now it's a more static kind of life, staying in one place. It's a very unusual situation for me, unlike the last fifteen or twenty years when I was constantly moving. I have been fortunate that I can be in my studio, and I have outdoor space. I've been able to go outside and experience a release from this isolation. In March, quite early on during COVID, we had a big storm. I went outdoors and recorded the storm, around the place where my great grandfather had planted a tree. It made sense at the time.
To sit under that tree and recall the sound of this really old tree made sense to me. That was the basis for the release of my work that is called Surge on the album Isolation, the compilation of many artists on the Touch label. It was a really good thing to work on at that time. It's weird because time seems to be really very different, when one day goes really fast, another one goes really slowly. It's not really easy to work in this situation. Very unusual for me.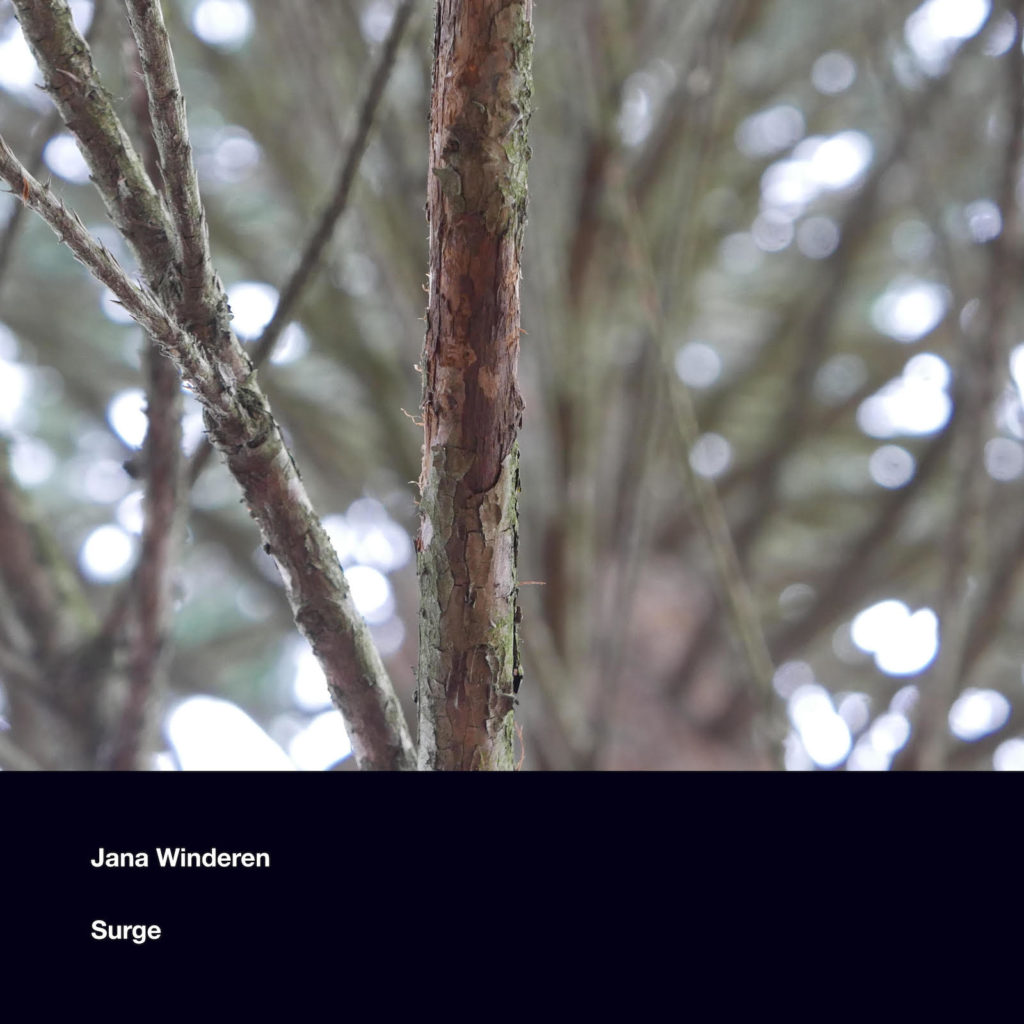 BL: What's next?
JW: I'm still working. If projects are postponed until 2021, and some from 2021 to 2022, I'm working continuously on many of them. I have two main projects right now, although obviously there are many. One I have now is a commission from IHME, a contemporary art organization in Helsinki, and it will be situated at the Rowing Stadium. It will be a large sound installation that I'll work on with Tony Myatt, again. It is now postponed one year, but we will use the year leading up to it to collect information and to post online. I'm doing online interviewing with the local farmers, and scientists who work with the Baltic Sea. There will be local initiatives of public involvement about [the question] what can we do where we are? I am very concerned with what we can actually do close to where we are, and also connect to the global situation.
You know, we can just look around ourselves and think, why is it not going very well in this field outside? Why are the fish washing up? Why do we have this new species here? What used to be here? Why do we call something dead? For example, the Baltic Sea. All the time I was growing up I heard, "Oh, the Baltic Sea is dead." Is this so? What do we do about it? The Helsinki project is actually called Listening Through the Dead Zones, and it has to do with these large underwater areas that barely have enough oxygen for anything to live. These big holes exist not only in the Baltic Sea but also in several coastal areas in other oceans.
I'm learning about the algae blooms that are influencing the biodiversity and the lack of biodiversity in these areas. I continue to work on underwater insects, which I've been doing for a long time. But now I'm getting closer to a kind of understanding of how insects exchange oxygen in these bubbles that they bring with them under water. This is the sort of ongoing research that I've been working on. There are so many things, and lots of projects I'm working on. It is good, but I still miss people.
BL: I guess most of us miss other people, now that we spend so much time staring at screens.
JW: Yes.
BL: Now I'll ask a question that I'm asking all of my guests in this series. Do you consider yourself a media artist?
JW: I don't necessarily call myself a media artist. I call myself an artist.
BL: Thank you so much for spending time with us!
JW: Yeah, sure.
BL: On behalf of Jana Winderen, thanks for joining me for this episode of Barbara London Calling.
—
This conversation was recorded June 26, 2020; it has been edited for length and clarity.
Support for Barbara London Calling is generously provided by Bobbie Foshay and Independent Curators International in conjunction with their upcoming exhibition, "Seeing Sound," which I curated.
Be sure to like and subscribe to Barbara London Calling so you can keep up with all the latest episodes. Follow us on Instagram @Barbara_London_Calling and check out BarbaraLondon.net for transcripts of each episode and links to the works discussed.
Barbara London Calling is produced by Bower Blue , with lead producer Ryan Leahey and audio engineer Amar Ibrahim. Special thanks to Le Tigre for graciously providing our music.
Thanks again for joining us. We'll see you next time.
Images & Video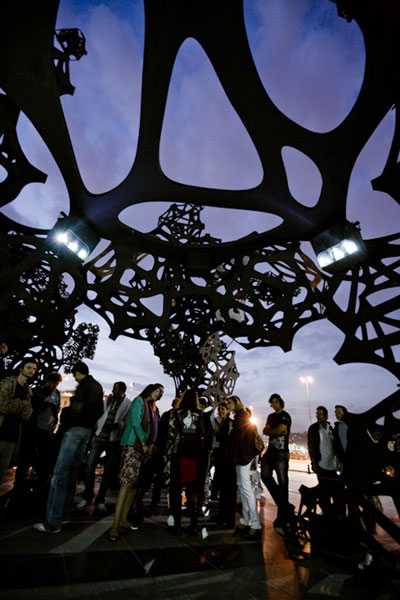 The marginal ice zone is the dynamic border between the open sea and sea ice, an ecologically vulnerable area where phytoplankton produce half of the oxygen of the planet. During springtime, the zone is one of the most important carbon sinks. In Spring Bloom in the Marginal Ice Zone, listeners experience the blossoming of plankton, the shifting and crackling of sea ice in the Barents Sea around Spitsbergen, near the North Pole, and underwater sounds made by bearded seals, migrating humpback and orca whales, as well as sounds of hunting and spawning cod. The sounds of living creatures offer an important voice in the current political debate concerning the official definition of where the ice edge is.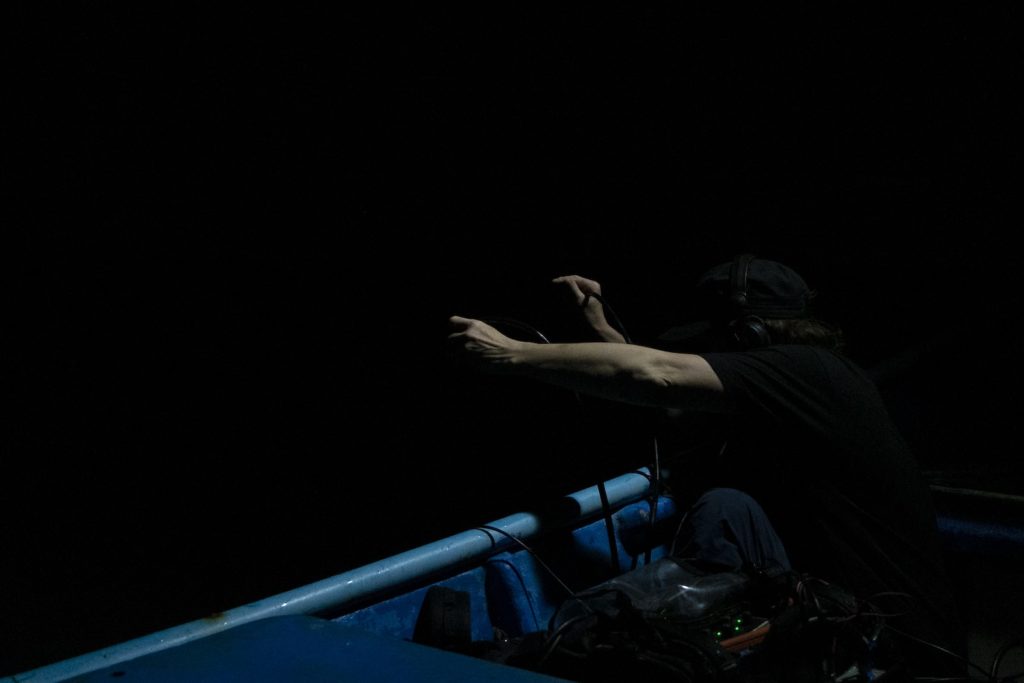 "When I make recordings in the environment, I record the whole ecosystem with the animals in it. When I am installing the sound piece, I work with the space as it is and not against it," Winderen noted. For the Miami project, she created recordings from across the city for the location-specific sound piece, which she hopes brought her listeners' attention to the fragility of our world's delicate ecosystems.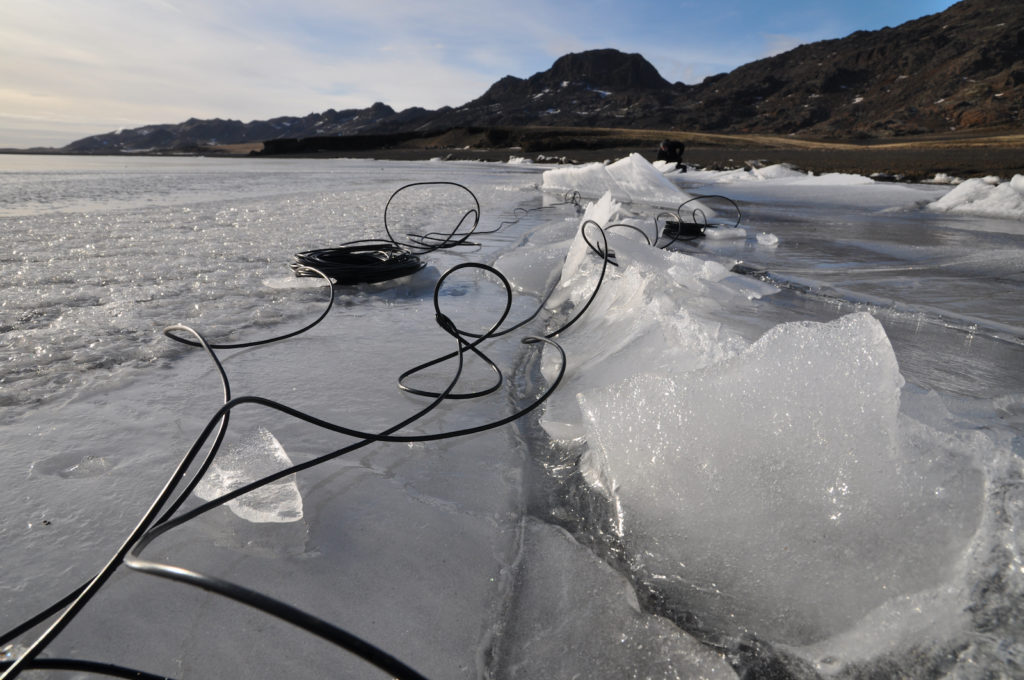 The underground sound installation ran from Thirty-third to Fortieth Street through the Park Avenue Tunnel. Based on sounds from shallow to deep underwater environments recorded in countries from Greenland to the Caribbean, the soundscape evoked the sensation of diving deep into the ocean.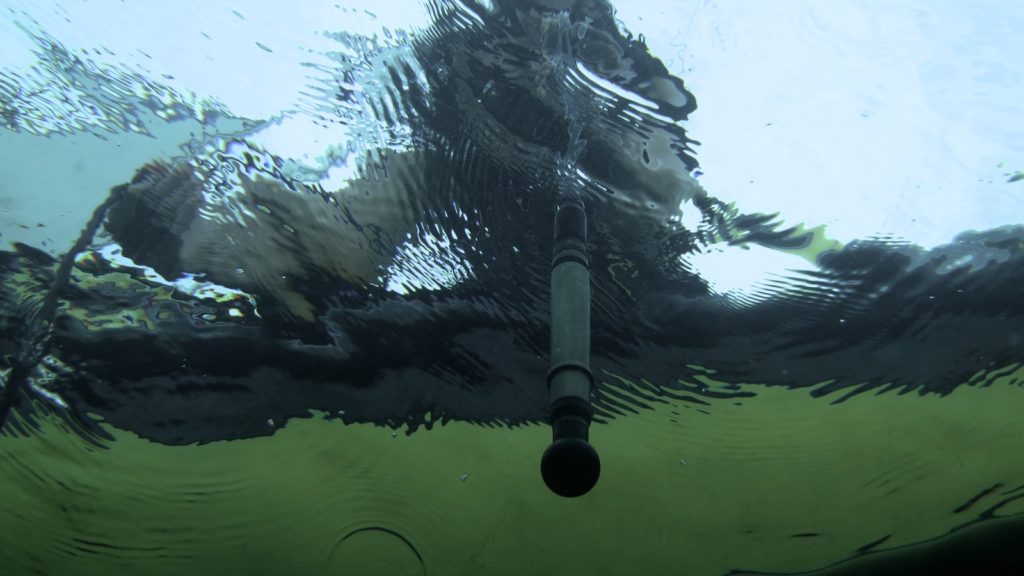 Rising Tide was composed of Winderen's hydrophone recordings made in the Pacific Ocean, the Caribbean, the Atlantic Ocean, the Barents Sea, and the sea ice around the North Pole. Without the aid of today's recording devices that amplify sound, fishermen in the Arctic and in tropical Oceans have been listening to whales, fish and crustacea through the water surface for thousands of years by means of bone conduction, by placing an oar to their head. Rungrueng Ramanyah has been practicing "dolam," the technique of listening underwater for fishing since he was a child, as his grandfather did before him, in Chana, southern Thailand.
Acoustic Refuge is based on sound taken from the Frierfjord in the Norwegian river system that begins in Hardangervidda and meanders through the Telemark Canal on its way to the coast. The area is a meeting point of two ecosystems: the sea and the fjord in outer Grenland. Winderen paid attention to the health of the fjord, part of the Skien watershed, which is heavily regulated for power production. She recorded the marine life—the sounds of fish, underwater insects, and crustaceans, which sensitive human ears might pick up when swimming. She juxtaposed the natural with industrial sounds produced in Grenland, the largest industrial region of Norway.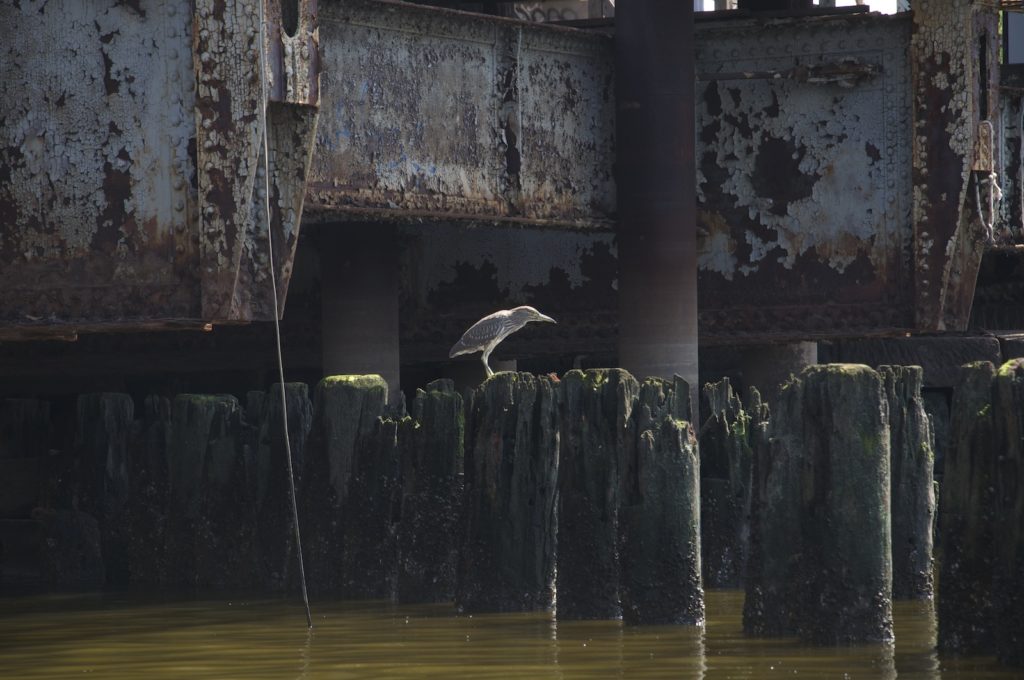 In 2012, "stillspotting nyc" was a multidisciplinary project that brought the Guggenheim Museum's Architecture and Urban Studies programming out into the streets of the New York's five boroughs: Brooklyn, Manhattan, Queens, Staten Island, and the Bronx. The project asked, how might locals and visitors escape, find respite, and make peace with their space in this "city that never sleeps?" Winderen and a group of architects, designers, composers, and philosophers identified, and created comforting "stillspots," which were made into installations, public tours, and events within and outside of the Guggenheim's building.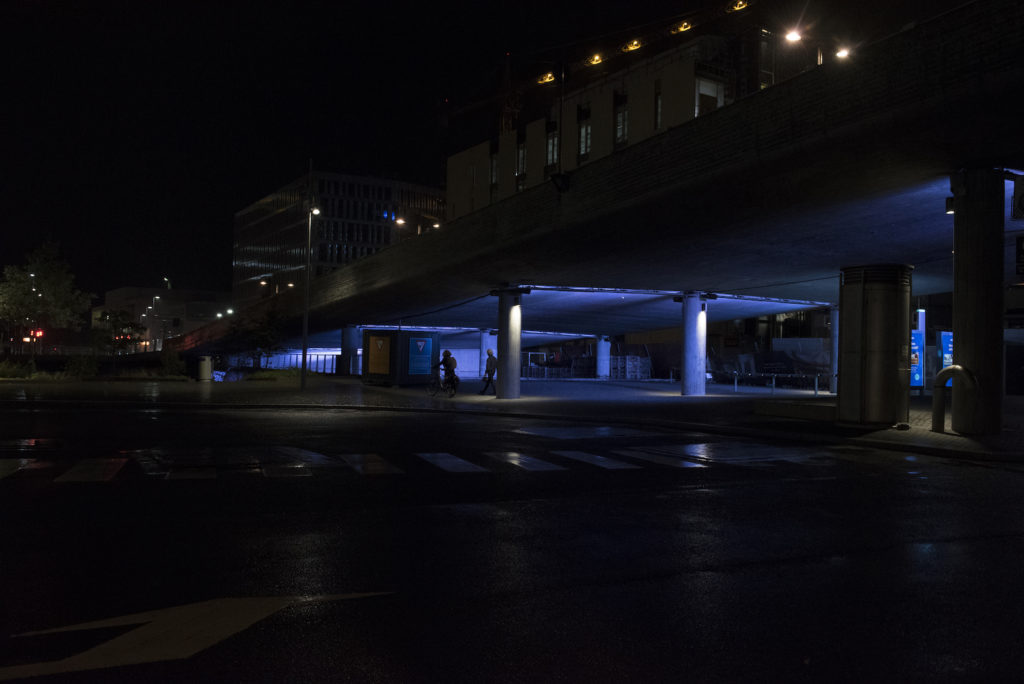 Neighboring the world of humans lives the inconspicuous, bustling society of rats, their communication inaudible to human ears due to its ultrasound frequency range of over 20,000Hz. Curious whether rats serenade one another with love songs, Winderen recorded the ultrasonic landscape of Bjørvika [central Oslo] and slowed the sound down to the audible level of humans. Drawn from the findings of her fieldwork, The Secret Soundscapes of the City was installed a stone's throw from Oslo's white-marbled Opera House, at the mouth of Akerselva, where the river meets the sea in a now rapidly developing district of Oslo.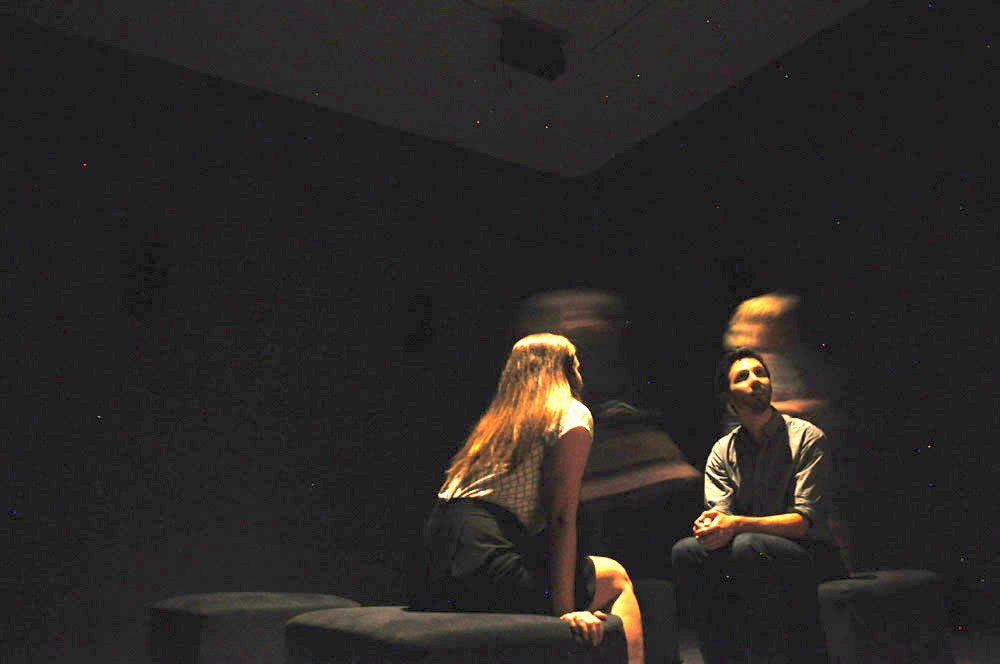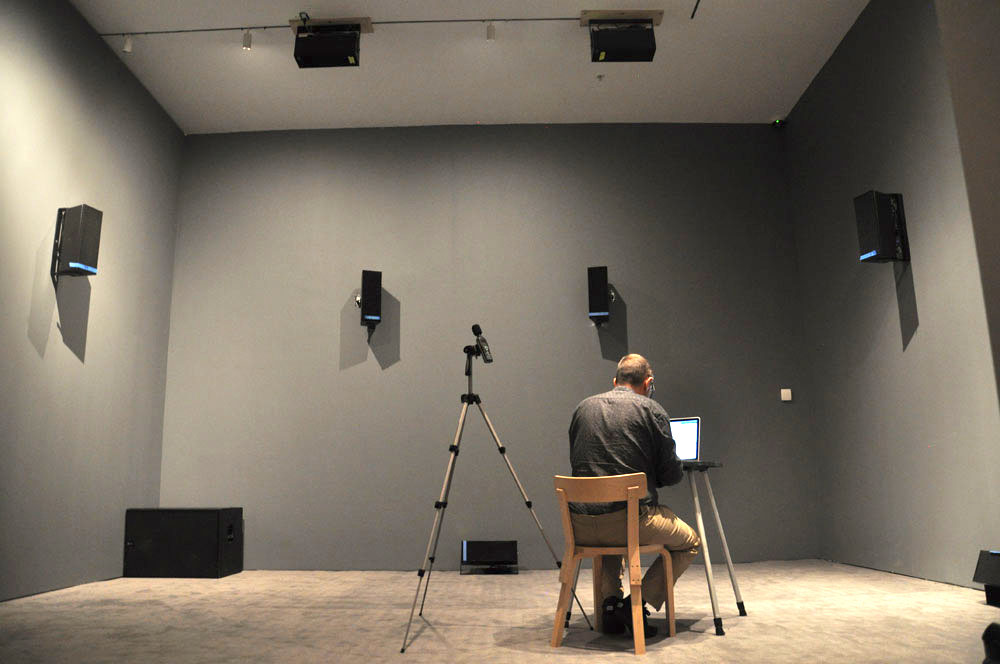 For Ultrafield, Winderen recorded the sounds made by certain species of bats, fish, and underwater insects, then pitched these transmissions down to the human range, which allowed listeners to experience sonic realities that otherwise are out of reach. People entered the installation's darkened environment and sat down on cushioned seating in the middle of the nineteen-foot square space, surrounded by sixteen inconspicuous, black speakers mounted from floor to ceiling on the four walls, each painted black. Two subwoofers with low-base frequencies were placed in corners on the floor. Listeners were aurally transported down into the depths of the ocean to hear the vocal clicks of whales and the subtle drone of boat motors, before going up to the surface of a river where the rhythmic sounds of canoe oars could be heard; then went aurally skyward into the domain of echolocating bats. Without the visual stimuli usually encountered in a museum, the audience paid close attention to what Ultrafield offered, shushing anyone who dared to speak.
In Transmission, Winderen investigated sounds in the imposingly beautiful pre-Soviet-era power station built in 1907, a site today of discontinuity between deconstruction and reconstruction of the building as it became a cultural venue.