[April 6, 2022 | Season 2, Ep. 12 | Barbara London Calling]
Barbara London: My guest today is Lucy Raven, an American artist who works with the moving image, light and sound to create majestic, immersive art. Born in 1977 in Tucson, Lucy grew up with a strong connection to the American West. Over the last few years, she has had solo exhibitions all over the world, including the recently reopened Dia: Chelsea in New York, where her work occupied the entirety of a former marble-cutting factory on West 22nd Street. This includes two of her kinetic light sculptures and a 45-minute film that depicts the clanking and construction at a concrete plant in Bellevue, Idaho. Lucy, thank you so much for joining me.
Lucy Raven: Thanks for having me in your podcast. Very happy to be here.
[Continue reading for full transcript.]
Transcript
BL: I wanted to start with a big picture of your work, since there appear to be two main components: one being landscape, the other being the language of the moving image.
When I see your work, I think about earlier artists who also dealt with landscape as they probed moving-image grammar. You've dug deep into cinema history and into the work of such directors as Raoul Walsh. To me, your work has a connection to the 1960s and early 1970s, and the formal tradition of fiercely independent, experimental, moving-image-makers. For example, in her film Wind, Joan Jonas cuts between snowy fields and blistery seashore as a group of performers, seen off in a distance, move through the stark landscape. In his film La Région Centrale, Michael Snow portrays an uninhabited mountainous landscape, which he shot by setting his camera on a specially built robotic arm that moves in pre-programmed movements. I'm curious: Did these artists, and perhaps those who were your teachers at Bard, have an impact on how you work?
LR: I think those artists who you mentioned have had a large impact on my work, and certainly my time at Bard, but also films that I was exposed to while I was there. As a kid, I was really obsessed with TV and with film, and a lot of what I watched were cartoons: all the Looney Tunes, Wile E. Coyote and the Road Runner. I really loved Krazy Kat and Krazy Kat comics. I also watched a lot of genre films and procedurals. I still love procedurals [a cross-genre type of literature, film, or TV program involving a sequence of technical detail].
I can look back at those and see that one thing connecting all those kinds of work is a very tenuous relationship to narrative. So I think later on, when I became exposed to some of the artists who you mentioned—Joan Jonas, Michael Snow, also lots of the filmmakers known under the banner of structuralism or structural materialism—that work really resonated with me, particularly the idea of thinking about film and time as form. Actually, my degree at Bard is in sculpture, not in film. I was studying with some of the filmmakers as well, but the context that I wanted to discuss the work was form.
I think maybe some of the other major influences around that time were actually the French New Wave film directors like Jean-Luc Godard, Alain Resnais, Agnès Varda, even Chris Marker, but the work that they did especially in the late 1950s. A lot of them did documentary work that's very poetic, that has a nonfiction subject, but treats it in a way that defamiliarizes it as a purely industrial subject or a topic that has an objective reality. Instead, most of those filmmakers made these very interesting pieces that end up having a poetic relationship to some kind of industrial process. I found those really inspiring, particularly when I started working on China Town.
BL: Let's now turn to China Town. This is your 2009 color film that tracks a small Nevada open pit mine's export of raw copper ore to a smelter in China. I believe the film is meant to be screened in a theater with first-rate projection and sound. You take the viewer on an audiovisual journey through the very complex process of extraction of copper from an old mine, to the transport of the raw material by train, the arrival of the ore at the Pacific Ocean, and then across to a smelting factory in China. It has this very abstracted geometric view of landscape, which is inherent to much of your work. Could you tell me a little bit about this perspective that you tend to take in your films?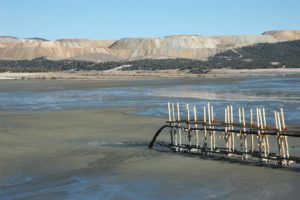 LR: China Town began with the question of what it means to be connected in such an increasingly wireless world that, nonetheless, is ever more wired to facilitate the wireless communication. I found it fascinating that this massive pit in the emptiest part of the United States—the Great Basin in the Salt Lake area, which is this large internal drain of the country with no external waterways—this big, vast void was also a source for connection.
Just north of the pit is the Golden Spike, where the transcontinental railroad was connected. This very remote place ironically becomes a point of connection, because it's the sort of last spot to end up getting connected. In a sense, there was always a kind of special idea I had and a set of questions around this set of material, relationships, and history around this mine that had been dug almost constantly for a hundred years. How was it that vast, but also that small for something that had been constantly scraped away at for that long. And how that would connect, on one hand, to our imagined landscape, dealing with what electricity facilitates, but on the other hand, with a very real physical landscape. Because what I found is that the mine I was looking at was sending their rock to China, which is not something I knew at the outset of the project. It became clear that the mine had originally been a mountain. It was mined, and mined some more, and then eventually inverted and became a pit. The town had to move and be displaced.
So these mountains in rural Nevada were being slowly broken down—they were slowly being broken down and, in some sense, ground up and semi-processed, then sent to China to be smelted and refined and turned into a product. A lot of the very detrimental environmental effects were also being outsourced to China. The more material and physical the film became, and the more locations I was going to as it developed, it also always had this abstracted and somewhat geometric return. Also, the spiral of the mine was another form that seemed to keep recurring.
BL: I want to know why you created the film using photographic animation, meaning that, during editing, you joined together sequences of still images. For me as a viewer, this made the forward movement in time feel really visceral.
LR: This was actually the first film I'd made that was not hand-drawn animation. That's how I started making movies. This was coming a lot out of that, and in animation, I was really interested in the idea that there was a very significant time displacement that was embodied in making the film. That's true of any film, but maybe it's very precisely delineated in animation, where you take a certain amount of time to set up each frame and then the frame goes by in a 24th of a second. It also allowed me to set up time signatures and structures that could operate outside of a standard capture rate or frame rate, that had become the industrialized standard, and instead make something that had an internal rhythm or logic that wasn't bound to essentially the manufacturing standards.
I was very interested in getting outside of that and how you might be able to use a kind of a regular time signature to think about time itself and the relationship between material and time, labor and exhaustion, and time passing. Those were a lot of the ideas that I approached China Town with. Actually, I had been thinking about this quote by Paul Valéry in Walter Benjamin's The Work of Art in the Age of Mechanical Reproduction, where Valéry said, "Just as we receive water and electricity from far off, one day we will receive audio and visual images appearing and disappearing with barely a signal of the hand." It struck me that now that was so true, that prediction had become totally ubiquitous, particularly with wireless communication. In fact, where we got water and electricity was the more abstract part of the statement.
One idea at the start was to use images appearing and disappearing to get at that other idea. I thought that was maybe, in some sense, a more poetic idea. Once I started going with it, I realized that I wanted the entire film to operate that way, because I found that it kept me as a viewer, while I was editing, from passively watching this process. I think it's very hard to not become a passive viewer of any moving image, and that animation with the kind of rupture, and that this particular idea of photographic animation was constantly rupturing this commodity flow. That became really crucial to the content of the film.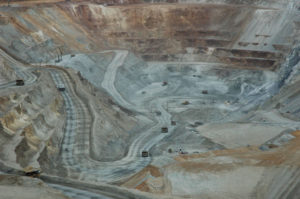 BL: Then, one last little point. You mentioned commodity. I see China Town as having an affinity with the work of the artist theorist, Allan Sekula (1951 to 2013) who also explored large economic systems. I wondered if you had studied Sekula too, or probed his work.
LR: Actually, later I became even more interested in his work. But certainly, I had been exposed to it, in some ways through the work of Thom Andersen and Noël Burch, and was very interested in it. I still am. To me, Sekula formed a kind of constellation in which I would also include Sharon Lockhart and James Benning. These are all Los Angeles based artists; I hadn't thought about that before, but I guess not Noël Burch. When I was making China Town, I'll say that in a sense, the biggest influence that Sekula's work had on the project is that the project kept going, and I had decided to go to China.
I realized I was going to go back again a year later. I was making many trips out to the mine, as well. I was trying to decide whether or not to make the journey over the sea from the Port of Vancouver in Astoria, Washington, where this semi-refined copper ore was being sent to the Port of Nanjing in China. I felt that Sekula had covered so much ground in the area of shipping and international shipping, that I decided in a private way as a kind of homage to his work, not to make that part of the journey. I actually felt I didn't really need to, because I did feel engaged in a conversation with this project, and I didn't feel I needed to add something to that part of the conversation. I thought a lot about his work in that context.
BL: That's very beautiful. Thanks for sharing that. Let's now turn to Curtains, your 2014 film, which I've read, or you described as a sequel of sorts to China Town. With Curtains, you explore Hollywood's outsourcing of raw imagery to post-production studios around the world, especially in Southeast Asia. In the outsourcing process, imagery gets converted from 2D to 3D. To make Curtains in 3D, you took still photographs in different animation studios, where animation workers sit in countless cubicles in front of computer screens. You then animated your photographs in 3D.
In your film, images slowly move left and right, coming in and out of stereo convergence, with the addition of color tones. In a way, it reminded me a little of Paul Sharit's experimental film work. When I watched Curtains, wearing a pair of 3D glasses, the movement felt very tangible, with images that glide, overlap, as if you have woven time in 3D. Curtains is both painterly and abstract, and it makes me think about the work of structuralist filmmakers. In a way, maybe because I was very close to him, I thought about the French film theorist-artist, Thierry Kuntzel (1948-2007). How has the work of structuralist filmmakers been important to you? And I'm curious, did you outsource the animation in Curtains?
LR: I did not. Maybe to approach that part first. The imagery in Curtains that you're referring to, I made by using a still 3D camera. On a 3D camera, whether it's still or moving, you've got two lenses and each lens is recording a different image stream, or in the case of a still camera, a different image. I had shot quite a lot of footage of different kinds for Curtains, unsure how that piece was going to come together. Eventually, I came upon this idea to use one still photograph from each of these ten post-production studios around the world. In stereo 3D, when you're wearing glasses, the images are overlapped. Through the glasses your left eye sees what the left images are, and the right eye sees what the right image should be. The two images converge in your brain to make the illusion of 3D.
I think one of the things I was really interested in with 3D, and particularly the artificial construction of 3D in a post-production process, was that your eyes are trained to converge on one spot determined by the stereographer. It's very different from say, a 70mm film you see in the theater, where your eyes are roaming over the entire screen. There's a kind of lack of agency where your eyes are actually converged for you and the glasses essentially force that situation. With this technique, essentially what you're seeing is the left eye image, which is red, and the right eye image, which is blue, disassociated entirely. Then they come together, and if you're wearing the glasses as they're merging, the 3D is wrong, has not quite locked into place and so, it's a bit headache inducing in a way, confusing between the eye and the brain. Then, it locks into place and you see this illusion of 3D briefly, and then the two images continue on and depart.
I was interested in this idea of seeing in 3D, which usually, you just do or don't. I think that idea of an externalized vision, almost objectifying your vision, is something that a lot of structural filmmakers use in their approach, or was somehow a question in work I was responding to, but I do feel very closely to. I did then and do now. Paul Sharit's work, for sure, has been really important to me. Also, the way that his work like Shutter Interface (1975) engages so physiologically with your eyes and your brain.
You might have one kind of relationship or reaction to the work that's about the image you're seeing, but you're also having another bodily perceptual relationship to the work. That was really exciting to me. I think also, the films of Hollis Frampton, Tony Conrad, Joyce Wieland, certainly Michael Snow. Also, the writing of a lot of these artists, and Andy Warhol. I feel that his films, in so many ways, lay so much ground ontologically for structural film, and gets taken up in lots of different ways, and in some ways still leaves a lot of ground, as well.
BL: Let's now turn to your latest work, which is on view at Dia: Chelsea through December 31. The recently renovated Dia has two large, really beautiful pure spaces in a former marble cutting factory. The vast exhibition spaces feel specifically made for your work. In the first large gallery, you installed two new, large and elegant light installations, caster X2 and caster X3, constructed with galvanized steel frames, stage lights, motors, and control systems. The two pairs of spotlights gracefully, but boldly, pan the large gallery. As a viewer, I felt as if I were a performer caught at times in the intense light, and as an observer of the mechanized ballet of spotlights. I thought about how life is lived in and out of the spotlight. I'm curious, what's behind the titles? Tell me more about your fascination with light works and spotlights. I know this is something that goes back to your past.
LR: Casters X2 and X3 is the second iteration of a series of works that, in a lot of ways, came out of Curtains and some of the research that I had been doing, particularly around the idea of externalized vision and being able to see behind your own head. I was thinking about the Robert Smithson's sculpture, Enantiomorphic Chambers, and his essay by the same title. In that essay, he's talking about the kind of stereoscope where, rather than holding up a stereo card where you see a left eye view and a right eye view next to each other, you put your face right up to a mirror shaped like a V. One side of the mirror is pointing to an image on your far left. The other side of the mirror, from the right, is pointing to an image on the far right. He noted this as a radical displacement of vision and the total externalization of the idea of even seeing in 3D, because your brain could see that there was one image on the left and one on the far right and yet they were merging.
I had made a piece as an expanded cinema work at the same time as Curtains, called Tales of Love and Fear (2015), which involved one left eye image and one right eye image, like Curtains. But rather than those left-right images emerging and diverging off a single screen, it was a piece where two projectors were in the center of a space. I developed this at the Experimental Media and Performing Arts Center [EMPAC] in Troy, New York. There were two projectors and each projector had just one image. In a sense, I thought about it as an entire cinema made only for a single film, which only had a single image. There was one image, which was an image of a bas-relief sculpture in a temple that I had taken in India when I was working on Curtains. I was thinking about this idea of 3D in relation to relief and the relief of architecture. In the piece, each projector casts its beam very slowly around the architecture of the space it's in. So, one image of relief is projected atop the actual relief of the structure you're in as a viewer. It's a forty-minute piece, where each projector goes once around the room. They converge in the middle on the screen very briefly in the illusion of 3D.
In 2016, I presented Tales of Love and Fear at the Park Avenue Armory. When I did, it felt like such a shame because the ceilings of the armory were so incredible. This piece only went in one planar direction as a circle. I think Casters developed out of that. I'd been thinking about this idea actually, in relation to the film you mentioned earlier, La Région Centrale (1971) by Michael Snow. In his writing about that piece, he calls it a kind of total landscape film. For La Région Centrale, Snow used a robotic arm with two axis of rotation that allows a camera to rotate in 360°. It allows for a technical vision that has a relationship to our eye, but in fact is a totally impossible view because, essentially the camera's able to see what would be behind our own eyes and see in this impossible 360° view.
With Casters, I was starting with some of those ideas. And as I was developing it, especially coming out of Curtains and the kind of doctrine that I kept coming across in Hollywood, which is, to work on storytelling in film in zSpace, which is how people were talking about 3D films. [[zSpace is a technology that combines elements of virtual and augmented reality in a computer.] That the very idea that these films were about storytelling. The films I was looking at, ironically, seemed like the most shallow films that we have and were the kind of films that get the sort of big budget, 3D post-production treatment, and that their story had already been told many, many times over in Hollywood, and thus would be a sure bet at the box-office. I really didn't want to engage storytelling or narrative at all. I found that, as I was trying to understand what that meant for the piece, eventually I ended up without an image and just with a light. But then I ended up choosing lights that had lenses so that I could project a line, which I was thinking of as a kind of abstracted horizon line. Still having a relationship to the landscape, but as a light that could project a line through the space in this scopic circle. When the circles converged, you would see an X or a cross that I thought of as sort of crosshairs or a bomb site, or an X marking the spot on the map. But because the lights are moving, it's very fugitive, so there's really no grounding image in the space.
The armatures are kind of based on an object called a rotacaster, which is a somewhat DIY object you can use to hollow coat the inside of molds through centrifugal force. I took the form of a rotacaster as the beginning of the design for these pieces. One part of the title comes from that. Then I was thinking, as well, as if these lights are casting a look or a glance, in the case of the Dia work. I think they are quite slow or steady, a continual look that's constantly slowly moving around the space.
BL: That's a very apt use of the site, and is a relevant way to launch the new Dia with your work. Let's go on to Dia's second gallery, which is very large, and in it is what I consider your majestic 45-minute film, Ready Mix. It totally commands the once-industrial space. I'm happy to know that earlier you actually studied sculpture, because you really understand space. The film is technically so well presented in the gallery. I have to say, my hat is off to you, the curator, Alexis Lowry, and the Dia preparators. Obviously, you spent a long time placing it and figuring out the many aspects. The work consists of a long curved, thirty-six foot projection screen. There are four, six-foot-tall speakers that sonically are perfectly placed on the periphery. There are metal bleachers, upon which viewers can sit, and of course, a projector.
As I sat and watched, I got totally lost in the audiovisual environment. Here's my very rudimentary description of what one sees. Ready Mix documents the workings of an Idaho concrete plant through a series of optical and durational experiments. Raw elements are dug out of the ground, moved into the factory to be crushed, and then mixed and sorted. There's a beautiful ballet as unused cement is formed into gargantuan blocks, which a tractor transports and piles onto a massive barrier or fence that's outdoors in the landscape.
Over the last year, you worked hard as director-editor of Ready Mix. In the production, you worked with a very small team: Yancy Caldwell operated the drone camera for the aerial shots; I know your composer was Deantoni Parks. I'm wondering, how did you develop a language onsite for directing the camera's movements and point of view? And what were you after, when you became essentially a director of this unbelievable performance?
LR: I was working, as you said, with a small crew, even smaller than I had planned because of the situation with COVID. Although we did have one initial shoot before COVID, and then had been planning a second one that then got quite stripped down. So, it was just myself and Yancy Caldwell, who you mentioned, and Spencer Cordovano, who was operating another camera on the ground.
Going into the project, I wasn't exactly sure of how I wanted to film it. I knew that the drone would be really important. I feel that the drone connects in some ways to Casters, in that the drone as a tool is so militarized, and that aspect of it comes along with using it. At the same time, it also has become very ubiquitous right now, and particularly in establishing shots of everything, in TV and films and commercials. I knew I wanted to use it, but that I wanted to try to engage its history and also try to use it in a way that might defamiliarize, in some sense, even just in the way you were maybe looking at the film. For the drone work, I think I developed all of the camera work in conversation with Yancy and Spencer on site, while we were testing things and just seeing what was working and not.
At the beginning, we looked at some drone footage that Yancy initially took and it looked like other drone footage. And so, it was like, "Well, what are we going to do with this?" And then, with some of the stuff we were shooting, we started out shooting very high frame rate with the camera that was positioned for all the closeups that are not drone, meaning, slow motion, because the material's moving very quickly so the shooting was in a 48 fps, 60 fps. When we looked at that footage, I felt that it essentially looked like a commercial for concrete. I was totally disinterested in it. A couple things developed out of this. I took all that footage from the first shoot and began a kind of rudimentary edit. We had tried a number of experiments, and what I found that I was really responding to the camera on the ground; often it was actually on a kind of shaking piece of equipment.
When shooting at a standard capture rate, which essentially, I've never done in a project before, but shooting at 24 fps, the material actually is going much too fast for that to be an adequate frame rate. And so, by sticking to that capture rate, there becomes a kind of blur and artifact. And some cases it's almost reads as a sort of liquidity of material that is baked into the footage itself. I was very interested in that, because a lot of this project, for me, started with questions about state change, a sort of shift from the granular to solid to liquid. I found could also happen optically in the footage itself. And then with the drone footage, I started asking Yancy to try to track whatever he was following on the ground, not completely in a one-to-one tracking, but in pace with whatever it was and moving at the same rate.
So, sometimes that looks a little more like a pas de deux than an actual very particular tracking. Sometimes it is part of a tracking shot, but the idea was that the camera would move at the same rate as whatever it was following on the ground. My thought about that was, a drone is controlled by a joystick. A lot of the vehicles that I was filming are also controlled by joystick, like a front loader or an excavator. I was interested in the drone, rather than being an omniscient eye, having a very tethered physical relationship to the material on the ground. In some sense, whether or not this comes across, thinking about one joystick that was possibly controlling both machines at the same time; and so, could kind of triangulate a disembodied presence of a hand that was connected to an eye and a camera.
BL: What in particular is it about cement that makes it a material you wanted to explore?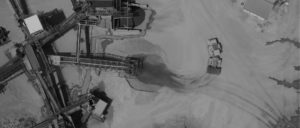 LR: Cement, in a sense, kind of found me as a topic. I've been working for a few years on a broad range of different, in a sense, optical experiments that are also forming the next couple of films I'm working on. One of them did have to do with this idea around material state change from solid to liquid, and how that idea operated geologically across time in relation to the formation of the American West, and also how it operated politically and socially. The West, like the world, is populated by cement. In a sense I guess, I kept confronting it or it kept confronting me.
Whether it was a massive monument in the form of a dam, or the very highway guardrails and structures I was taking when I was going out West. It just was everywhere, the literal foundation for every building. Actually, this entire project began on the residency in the Philippines, and the concrete thing kind of came out there.
BL: The other month I listened to your conversation with the great thinker Lucy Lippard. It was a radio program. Instead of using Zoom, as nearly everyone else does, you chose radio as the outlet for your conversation. I was wondering why that choice.
LR: Yeah. Well, I think after the last couple of years of being on Zoom, I really didn't feel like I wanted to ask anybody I knew or didn't know to join me on a Zoom call. And, I really love radio. I used to have an audio magazine. I listen to radio all the time. I grew up with radio and I actually love thinking about radio, in relation to the landscape, that kind of shifting stations you'd have as you drove across the country on a long road trip. It's a little less easy to do now in a rental car. But years ago, it was serious radio. Anyhow, I wanted to engage with Lucy in a conversation that, as a listener, you wouldn't necessarily be tethered to a screen, that you could listen wherever you were, that opened up a kind of space that felt like it could be less about sitting at a screen and a little bit more open.
BL: Ready Mix is majestic and elegant. At the same time, it's minimal and really down to earth in the manner of such land artists as Robert Smithson and Nancy Holt. To me, there's a connection there. Am I accurate?
LR: Both of their work has had a tremendous influence on me, I think. When I was working on China Town, I visited Spiral Jetty and Sun Tunnels several times. I read Robert Smithson's collected essays several times, and of course was his film, Spiral Jetty, and then also Holt's film, Sun Tunnels, which I found really incredible. I love Spiral Jetty as a film, but Sun Tunnels has a different kind of rigor to it, in how it's constructed, and I was very drawn to that. I was interested in their work alone and also their collaborative work, and the kind of spirit in which it came together. Along with those films, I would include the films of Gordon Matta-Clark and Walter De Maria's film, Hard Core.
I think De Maria's work is something that I explored in an earlier artist-on-artist performance project with Deantoni Parks at Dia, and that led up to this show. His work had always seemed very violent to me. The invitation from Dia to make an artist-on-artist piece about one of their artists felt like a perfect chance for me to explore why that was, and where that came from. I think in that research and then in visiting Lightning Field and seeing a lot more of De Maria's work, including the film, Hard Core. I had known that he was a drummer in the Primitives, the pre-Velvet Underground band, with Lou Reed and John Cale and Tony Conrad, and that he'd given up his drumsticks and become an artist. But that idea of interval, and of a kind of hitting, for the drum always felt really primary to me. And a kind of sustained viewing of his work, while working on Ready Mix was also really important.
I think, going out to Lightning Field, there is a question I have about the grid. This mile by kilometer grid that's overlaid onto the landscape is a kind of critique of a sort of Cartesian grid, both in terms of our optical way of viewing perspective and as an actually Jeffersonian land grid, whether it's a critique of that or a reiteration. I think that within that abstraction there is room for a quite generous interpretation that also includes a kind of violence. I think that I'm really interested in the space that's held open in that question of exactly what the operation is.
BL: I'm very excited that there will be a digital download of the performance, plus there will be a vinyl record of Ready Mix available for sale. Is this the first time you're releasing a soundtrack of your work?
LR: Deantoni and I worked very closely on the soundtrack for the film, meaning the sound that's in the film itself. It's a combination of location sound that I recorded and edited on location and then put together and edited for the film, and then a very wide range of sounds both composed and fully constructed, which Deantoni then came in and worked on to create the sound you hear in the film. For the vinyl record, the supply chain of vinyl is extremely slow at the moment, so unfortunately the record, while finished, will be coming out in its physical form next year. What we decided to do for this, rather than just taking the sound in the film and making a record of that, was to think about the whole conceit of a soundtrack. This is the first soundtrack I've released. I broke down sections of what you hear in the film into songs, kind of scenes, then reworked those as pieces in themselves. Each side of the album has a number of different tracks, a number of different songs. In a sense I'm thinking of them as extractions from the film.
Some of the songs are only derived from the location sound, and that's something you'll never hear in the finished film. Some of the tracks are only Deantoni's composed sound, also something you'll never hear in the film. And some are a combination of the two. And then he's put at the end of each side, at the end of the A side and the B side, what he's called a Redux, which is a kind of electronic dance music track whose basis is something from the film.
BL: That's fantastic and not to be missed. Now for my last question, something I've asked each of my guests. Given the ups and downs of the last eighteen months and the struggles we've all faced in trying to adapt, how has technology affected you and your practice?
LR: It's interesting, because I spent a lot of the last year and a half outside of New York, out in Idaho, not far from where I filmed Ready Mix. I was actually away from the screen for quite a lot of that and started drawing every day, which is something I hadn't done for many years. When the dates were possible, I was filming Ready Mix and then spending a huge amount of time in front of the computer screen editing it, but also working collaboratively with Deantoni, who's based in Indianapolis, with Consulting Editor, Michael Olenick, who's based in Columbus, Ohio, with my Color Grader and Online Editor, Ryan Jenkins, in Troy, New York. These are all things I would've done in person before COVID. We've struggled in a lot of ways with how to work remotely through online communication.
As I work on the upcoming projects, I'm working with essentially the same team. In most cases we're working the same way, but probably not the color grading, as I'm not sure if I want to do that remotely again. With Ready Mix, I found that we were able to work through the challenges and develop a really exciting way of being able to collaborate without being in the same room, when that wasn't possible. I think, like the radio interview you mentioned, that maybe I think now more about the choice of being in front of a screen or not, and try to take and make more time away from that as well, as much as it's facilitated working in other ways.
BL: Thank you so much. This has been a very special conversation. I'm very, very appreciative that you took the time.
LR: Thank you so much for having me. It's wonderful to talk with you.
—
Support for Barbara London Calling 2.0 is generously provided by the Kramlich Art Foundation.
Be sure to like and subscribe to Barbara London Calling so you can keep up with all the latest episodes. Follow us on Instagram at @Barbara_London_Calling and check out barbaralondon.net for transcripts of each episode and links to the works discussed.
The series is produced by Ryan Leahey, with production assistant Vuk Vuković. Web design by Sol Skelton and Vivian Selbo. Special thanks to Lee Ranaldo for graciously providing our music.
This conversation was recorded October 1, 2021; it has been edited for length and clarity.
Images