[March 9, 2022 | Season 2, Ep. 10 | Barbara London Calling]
Barbara London: Today, my guest is the artist Ken Okiishi, born 1978 in Ames, Iowa. Ken comes from what he calls a linguistically expressive family, with roots in Hawaii and Japan. The simultaneity of those different cultures and identities helped motivate Ken's interest in language. He received a BFA from Cooper Union in 2001 and went on to explore image networks and media systems through his art. Welcome, Ken, and thank you so much for joining me.
Ken Okiishi: Hi, Barbara. It's great to be on the show.
[Continue reading for full transcript.]
Transcript
BL: Let's start with a bit of your family backstory, since I think it's central to understanding your work. You've talked a lot about culture and identity, but also about entering new cultures and code-switching or play-acting new identities. What is your family's backstory? And how did it affect you as an artist?
KO: My family's backstory… Let's start with my father's side, because one of the interesting things is when you are, as they say in Hawaii when my father grew up, Hapa. This phrase means that you are 100% half or 100% hybrid.
On my grandmother's side, they came to Hawaii around 1889. They had a store and also a kind of compound, where they lived. They were importing things from Japan, and were traveling back and forth between Japan and Hawaii. On my grandfather's side, it's a bit less clear. My grandfather always says [about] his father—this is still around 1880—that they didn't want him in Japan, whatever that means. It was always a joke that he would say. And then his own mother actually ended up being a merchant, as well.
So, it's this long story from the 1880s, and then my grandfather was born around 1906. My grandmother was also born around the same time. So, they were already second generation Japanese-Americans. But at that point you didn't really think of it that way. They were between Japan and the United States. Or at that point, an American territory.
So, all of this emerges in its own way. They have this hybrid or multicultural or multi-country globalist point of view before the war, also from the Japanese point of view, as well, all the way through. My grandfather goes to Los Angeles; he runs away from home. My grandmother's store fails. They moved to Oahu. They start a new store, all these kinds of things.
My grandfather was actually employed as a welder at Pearl Harbor. Then the moment that the war happens, everything in their identity changes. Everything that was natural and emerging and, in a way adventuresome in their first-generation existence—as Americans would say, but Japanese-Americans would say second-generation—is turned on its head.
So, my grandfather was employed as a welder at Pearl Harbor. His son was about one and a half years old and they had recently celebrated his boy's day, a celebration where he had been given a large gift of something like sixty little porcelain and wooden handcrafted dolls from Japan, telling the story of the life of a warrior. Then my grandfather received a phone call from his brother, whose house had just been searched by the police, [who were] looking for connections to Japan. This is immediately after the bombing of Pearl Harbor. My grandfather suddenly decides to take anything that looks Japanese in the house, puts it in a truck and drives it basically next to Pearl Harbor, where he worked, and throws it in the ocean.
This is this story that I grew up with that created this strange leitmotif of the American identity formation of the Japanese-American side of my family, which is this sudden need to hide all traces of one aspect of your identity. It created this situation that my grandfather actually would even describe. At one point, he received a silver beaver award, this is fifteen years later, because his son was involved in the Boy Scouts and he was such a good leader. My grandfather once referred to that as his academy award for acting. This is when he was eighty-five years old and living with us in Iowa, where he moved eventually when he couldn't take care of himself anymore.
I always just wondered what that meant. It's only recently that I understood that what he was referring to was this need to, on a dime, switch identities to whatever the situation required. On my mother's side–this is the funny part about being 100% Hapa–we didn't really talk about all of our family lineage until this year, that they were on the Mayflower, then they were Mormon pioneers, et cetera, et cetera.
It's this strange thing, that as a Japanese-American, at the same time I also have all of the guilt and complexity of a settler-colonial American. It's an unusual situation. This is very biographical, which I don't normally talk about, but you got it out of me. It is a weird situation of being treated, almost before the fact, as a foreigner, because of my last name and because of my father. Whereas my family is actually very, very old in the problems and complexities of an American identity.
BL: That's such a good grounding of your work and also of you, whom I've known since you were my intern at MoMA.
KO: Exactly. You've known me since I was a teenager, basically.
BL: We go way back. Let's go way back a bit too, and talk about how music has shaped your practice. I know that as a child, you played the piano and you learned notes by ear in the Suzuki method. How are music and language tied together for you?
KO: This is something that is weirdly hard to talk about because they are so interconnected. In the Suzuki method, I guess one of the theories, which is a very strong one, actually comes from Suzuki's study of Mozart's education. Mozart learned to hear music and to play it in the same way you would learn language: by sounds before reading, by the sounds and the performance of the sounds. So, on the piano, they'll be playing the notes before learning to read.
In the pure Suzuki method, you learn everything by ear before you learn to read music. I also learned to read music when I learned to read words. These things are so intertwined. It also means that when I sometimes edit texts, I can think of them as scores. For me, scores and texts are almost, but not quite—they're interchangeable, but that I can think them–I guess it's similar to poetry, where you think of text as something that is performed, that is lyric and that comes out of a classical tradition. Also, for the Greeks, language came before writing. The speaking of the epic poem comes before the letters to write it down, in a certain way. There's even a theory that vowels were created in order to create the lyric sounds of Homer's epic in writing.
So, for me, that early educational experience, on the one hand, makes it so I can do some things very quickly because I can process language like music. But on the other hand, when we're talking now, I start to stutter because there are too many inputs and outputs happening at the same time. It's both a gift and a curse actually, to have these things fused together.
BL: It's something about the cerebral and the intuitive.
KO: Yeah. Also, my mother actually trained very rigorously in modern dance before she became a therapist. Her parents were also psychologists and her stepmother had studied at the Menninger Institute and did all these early psychoanalytic experiments watching mothers breastfeed, filming them, analyzing them, watching the films, all this stuff. That mediascape of the world that I grew up in was very twentieth century. Before the internet, it was very cybernetic, et cetera. So that meant that yes, also movement… I guess the thing for me is that performance was always embedded with intuition and learning and speaking, and all of these things are all intertwined in a way that can't really be extrapolated.
BL: From that, from your family, you then landed in the East Village in Manhattan in 1997. Around you was this incredible underground scene full of indie bands and experimental film. That was right before social media took off.
KO: Exactly.
BL: You were a student at Cooper Union. You studied with an artist who was so witty, so droll and wonderful, and that was Robert Breer. You took his film classes, which meant you were watching [experimental] films at Anthology Film Archives, film as film as it was meant to be experienced. What impact did Breer have on your practice?
KO: Robert Breer actually is the one who [initially] looked at my portfolio for Cooper Union and basically gave me the green light to apply early, which is the best way. It's a very competitive school to get into. He basically ushered me into the school, and also toured my parents around the school. It was very generous, what he did.
Actually, his method of teaching was unusual. At the time it was a very wild environment. Now people would be like, "What is this?" He would just basically sit in front of the class and gossip about history. Because he lived it, he was there for everything. He'd be talking about Nam June Paik and Charlotte Moorman, and then being there, and oh, what's going on? Then he would make a joke about it, and then we would enter some other zone, or he would make fun of Stan Brakhage because actually Breer is one of the few filmmakers who liked video transfers, if they were good. He was like, "Oh, they can circulate better." Maybe that's also because of Nam June, because this idea that you could circulate things was so interesting to them. They weren't these fetishists of the Holy Chapel of the Movie Theater, even though we did watch films in original prints, when we could.
The point of that is, I think, that this oral history way of talking was such an interesting thing. Also at Cooper, actually a lot of the other classes were extremely theoretical. Hans Haacke was one of my professors, and so was Laura Cottingham, Atina Grossmann, who's a great historian, Fred Wilson and Lorna Simpson. All these people were amazing professors, but the texture that Breer brought to it in this oral history of an older generation, an older avant-garde generation, a generation that was very philosophically rigorous. In a weird way, you could say that for them, practice came before theory, they live-generated theories. They generated theories in their practice. I know that you knew a lot of these people, as well.
I think a shift happened maybe with the subsequent generation, where they started to put the theory before the work. Not that the one or the other is better, but it's just a different shift. So, I loved having this extra mixture of these stories told by this artist… He was like a standup comedian when he would [speak], but a very dry one. You didn't know if you were supposed to laugh at him as a standup comedian. And also learning that there could be irreverence to this idea of the purity of form or something, that there could be an irreverent attitude towards how these things came together. One time, I guess, he loaned Carolee Schneemann his movie camera to make one of her early feminist films. He said that he was completely shocked by what she had done with the camera. But he said this as a joke, also as a dear friend of his. To put it in that kind of social context was incredible.
BL: That fits very well into the way Breer understood the world of the moving image. Do you want to just say a little bit about going to Kim's Video, the video rental store on St. Mark's Place? Because it seems that offered a similar kind of attitude.
KO: Well, it's actually funny when you ask these questions, because the East Village was all one continuous very chaotic space at that time. Also, imagine walking around anywhere in the world without a cell phone. We actually existed in worlds without cell phones, without Google Maps, without knowing anything. Buildings were opaque. You didn't know what was in a building. You couldn't Google it. You'd just hear, oh, there's this video store. Then you'd go there and it's this incredible place. And it's also full of all these characters, who also don't know anything about each other because they can't look each other up on Grindr or something. Everyone is opaque. People also didn't really talk to each other the same way [as today]; people had a guard about them. You didn't know who this other person was.
So that meant that when you would go to the movie store, and this is three or four times a week, you'd go up this purple elevator and the door would open to Kim's Video. There were these clerks who were staring at you, looking at what you would rent. They were mostly NYU film students and annoyed to be working there, or whatever. They were annoyed… Who knows, they were probably high as a kite. Who knows what they were doing.
You'd pick your movies, just these little cardboard boxes with VHS tapes inside. For the younger generation: they were little cardboard boxes of videotapes, and you could read a film's description [on the label.] You'd be looking at other people. A lot of filmmakers would be there, so, it was minor celebrity sightings happening constantly.
Anyway, you're there and then you go up to the counter. It didn't matter what you rented. They would just roll their eyes at you. And so, every single time you got judged, but that was part of it, it was just part of the fun of it. I remember the one time they didn't make fun of me is when I rented The Golden Girls, the TV show. I rented the full box set of The Golden Girls. That was before you could Google something and watch it on YouTube. That's when I finally got a smile from one of them. They liked me ever since, because I humiliated myself enough for them.
BL: So now, let's talk about some of your own work that you made around that time. Let's start with your home movie-kind of video called Telly & Casper from 2000. It's hilarious and it's devastating, and twenty-seven minutes long. I want to understand what was in your mind, as you have said it was a critique of Larry Clark's portrayal of masculinity in his 1995 film called Kids, which is a coming-of-age drama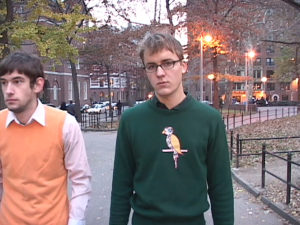 KO: I'm the generation about five years younger than the people portrayed in that film. Basically, in a nutshell, Larry Clark was hanging out in Washington Square Park, photographing skaters, et cetera. He eventually makes a film, which I guess you could say is a pseudo-documentary, but very scripted [by Harmony Korine], about reckless, very macho teenage boys, and also Chloë Sevigny's first film, set in the East Village / Lower East Side in the mid-nineties.
I had seen that film. And when I moved to New York, then I was hanging out in these situations, and what I realized, because from the outside, there's this kind of smoothness to this identity, to this masculinity; there's this smoothness. There's a sense of how cool someone thinks they are being portrayed. What I noticed is that there was actually a very fractured sense. At that time, you would say in real life, but now, I guess you could say the same thing, in real life. In person, there was this fractured sense to this self-identity portrayal, which also, at that point, just five years later, a lot of these skater people in the park you could see were also just waiting to be discovered for fashion shoots or something.
It was also a transitional moment in New York City. Working at the time there were also photographers who were staging photos that actually were being thought of as documentary. So, the wildness of downtown was being portrayed in an optimized way that fed into these desires to see a certain portrayal of destructive, what we now call toxic masculinity. But then I actually knew the people in the photos, and in fact they were not like that at all. These were actually complicated people. And they also didn't like the way they were being portrayed, either. They didn't like that they were being asked to fulfill these roles, and that actually a lot of the magazine editors and other people only wanted see the toxic masculinity. They didn't want to see anything else.
So, I decided to take some of the script of Kids, and also the places, Washington Square Park. This was when Giuliani was trying to clean up the city. So, a lot of these places had already lost their chaotic side. This was a transitional moment in New York, as well. I took many of the lines and then had two of my friends—someone who actually ended up becoming my lifelong partner, and another friend who was an NYU film student and also incredible actor, as you can see in that portrayal of kind of complex emotions—and I had them basically reenact a different situation in basically the same mise-en-scène.
What emerges actually, I think, is funny, because I recently showed it again and it stays fresh, somehow. I don't know why, but for some reason, they stutter and then there's a lot of tenderness and pain, but it's also quite hilarious. Anyways, for some reason, this portrayal of, I guess you could say, complicated identity allowed it to transmit in a way, and that toxic masculinity becomes almost unwatchable now.
BL: It's a fantastic work.
KO: I should also say that I still find Larry Clark fascinating. It was not a rejection, actually, because I think that there is also a lot of pain in his work [and] that's quite interesting to see.
BL: Let's move on to another work you made ten years later, (Goodbye) to Manhattan. It's a work that appears to be semi-autobiographical. You managed to capture the core, the essence of your life as you were living it between New York and Berlin. I remember that we met at Alex Zachary's small gallery on the Upper East Side. The video had the feeling of a soap opera, but a contemplative and a theory-filled soap opera, in which you capture the spirit of your social life and your friendships. I have to say, because you're younger than I am, it made me very eager to better understand the values and the social mores of your generation. Maybe we'll just dig right into what was behind that work.
KO: This is 2010. At that point, New York was in this complicated situation, which isn't that dissimilar from now. There had been, for example, on the Upper side, all of these empty spaces that basically no one wanted to inhabit. This is why Alex was able to get that incredible, but also incredibly weird and spooky space. And at the same time, for a lot of people of my generation, New York was just too expensive to basically do anything other than have a full-time job, which also meant you couldn't be an artist.
So, at that point, a lot of friends of mine were figuring out that, for example, you could live in Berlin most of the time and then come to New York when you needed to. That was a way that you could continue to be an artist or make your work without having a nine-to-five job every single day in order to support yourself.
I think to put this in context for people, at that point it was the moment when certain areas of New York that were considered where only rich people lived, like Park Avenue. Some of these people are my friends, who grew up on Park Avenue. Their parents looked at these new people who have their children picked up in armored cars every day, and were like, "Who the fuck are these people in my building?" Or, there was a pile of hundreds of empty Sant Ambroeus boxes from take-out every single night, or delivery of these pink boxes every single night.
Basically, it was a situation where Manhattan was being made into a city only for billionaires. Or that was the feeling. Of course, it's a multifariously complicated place, where lots of different people live. But the feeling was that it was becoming a place, in a weird way, that was no longer viable except for the very richest people to live in.
Anyway, this Upper East side space was the perfect site for dealing with the monster that New York had become. And then of course, this film of Woody Allen, Manhattan, which is in its own way a monstrous film, was the perfect place to deal with a lot of the anxieties and complexities of having grown up in the generation of the teenage girl who was in that film. Which we all know now is this incredibly complex thing. All of us knew at the time, maybe not specifically, but intuitively, the trauma of this unviable world that had been created for us that we were supposed to be able to perform in.
Basically, what I did is I took out all of the male characters. Then I took a German version of the script and retranslated it into English with Google Translator. At that point, Google Translator was super crazy. So, the translation is full of interference and noise and all kinds of weird stuff. At that point, Google was a strictly rule-based translation machine. It only translated things based on a set of rules. It basically was the externalization of a bad algorithm, but it created the most hilarious kind of language.
Then I had my friend Emmelyn, who grew up on that side of Manhattan, portray the Google translated Tracy character. The teenager in these long monologues is filmed in front of a green screen, where different things happen behind her. The different things were home movie footage from Berlin, different kinds of events in this emergence of a nexus between the Berlin and New York art world, and then also other kinds of chaotic situations.
Actually, it's interesting, because I was watching it the other day. This piece, also in the way that the thinking about Woody Allen and his film Manhattan have changed, it gains an even more complicated, critical view than even when it was made. Because at that point, many of us weren't ready to talk about what it felt like to be asked to perform in an environment that was untenable and quite toxic. This is before "me-too." It's before a lot of these things. It's there in the piece, I think.
BL: Berlin was a little bit different, then.
KO: I moved to Berlin for the first time right after graduating from Cooper in August of 2001. Little did I know that a month later is September 2001. I didn't know how long I was going to stay. Then it was very clear. All of my friends were deeply traumatized during September 11, et cetera, many of whom lived in the area, [with] all the toxic air… Literally the air and the ideological things that were happening, and just the fear and the unsteadiness of the whole environment of Lower Manhattan, so they said, "Don't come back. You should stay in Berlin obviously."
That winter was a very long winter in Berlin, but it was also a very interesting place. Let's remember, this is before social media. For me in my own life, I had a "degree zero" feeling of needing to meet new people, needing to see things. And so, I would just ride around on my bicycle... This is when all of the big clubs in Berlin emerged. This is before Berghain; there was something called Ostgut. Every night you were going out until six in the morning. This was a normal thing to do, especially in the winter because it was so dark during the day. For some reason–the night was supposed to be dark. So, it was fine.
You would meet people at these clubs. Then there was a special thing in Berlin, you never asked what anyone did, because there weren't really jobs. They were not defined by their jobs. This was an amazing place in which to just work. There is work from 2001 that happened, but, 2010 is the first time I exhibited a major work that came out of this experience of what eventually became going back and forth between Berlin and New York.
It was interesting because at that point, Berlin was, in this weird way, the open zone of where you didn't have to socialize, you didn't have to be present. You could just space out. You had dear friends, there was lots of open space, and you took long bike rides. Then New York was hyper and was emerging into a digital capitalist chaotic zone, in which to have a different set of experiences. The tension and the back and forth between those… I wouldn't want to idealize it, because it was also hard. It's annoying not to be able to be in one place all the time, but that's the way the world got chopped up.
BL: That was a terrific description of your work (Goodbye) to Manhattan. Because you really deal with temporality in that work, let's move on to Being and/or Time, which you date 2013–16. It's unbelievably very fast paced. It's going so fast; the viewer can't catch any one image. It's a fast-paced visual assemblage that consists of every single image you took with your iPhone over a three-year period, when you were traveling nonstop around the world for exhibitions, meetings, setting up artwork at art fairs.
So, it's all presented in chronological order at a speed of about twenty-four images a second. There's this glut of 25,000 images in a work that is very much a kaleidoscopic visual diary of the digital age. You described it as an era when the body tried to move at the same velocity as social media images. What did you mean by that? Also, I want to know, why and what is the title's reference to the German philosopher Martin Heidegger?
KO: My kind of idea that the body was trying to move at the same velocity as social media images, I think, is a slightly overdone statement. But I do think that in certain segments of the art world I was inhabiting, where people, friends of mine who were gallerists or curators, were really expected to be at every single art fair, every single opening. It didn't really matter where or when it was. Also, these things had a way of colliding around the beginning of fall, certain parts of spring, certain parts of summer.
There's one moment where I was in Hong Kong one week, and then three days later I was making a work in Milan. Then a week later I was in Vienna installing. While I was still working, making the work in Milan, I was installing something in Vienna. Then I had to fly to New York for this very important thing, and then come back to Vienna the next day for the opening, and then fly back to New York. Then I just collapsed. I also collapsed in Milan, apparently—I slept for a day and a half. The people who were hosting me at the residency, they were saying, "When do we wake him up? Is he OK?" But then I woke up and immediately started making a film.
I think it's because it became possible to think this way, one thing that social media did is it made it so that we could think the entire globe at the same time. You could think that, in your brain at least, you are in all of these places, you're in all of these heads. You're in all of these people's brains at this same time, which, also, in a weird way leads to a desire to physically see them. I also think that there's the sadness that a lot of people describe, when they do social media. I think it is a little bit about not having the flesh, but you have the brain, or something like that. You miss the person immediately, because you're so close to them.
I guess at this point, I was trying to figure out what could I make when there was no time to make anything? That was the other thing. But then it turned out that there was this residue of this experience. By the end of three years of this, most everyone I knew, including myself, were totally burned out, but there was this happy face you had to put on because that's what you do. So I just started putting everything on a timeline and realized that it was doing this thing. The first time I showed the work, a lot of people walked in, like, "Oh my God, it's that? I know what this is." It's not the overwhelmingness of media or the overwhelmingness of data; it was the overwhelmingness of a body as data—a body behaving like data, a body trying to flow in a fiber optic cable.
Then the title is slightly a joke because, of course, Martin Heidegger's Being and Time [1927] is this incredibly important philosophical work of the 20th century. It was then also heavily criticized by people like [Theodor] Adorno for its jargon and its mystification of concepts. To insert and/or in the middle of this title is saying, for me, that any term could be anything. Basically, anything could become anything else. So Being and/or Time, it could be apples and/or oranges, it could be razor blades and/or broken glass.
Now, to go into my Heidegger language, it was as if existence or non-existence were the same thing, because as long as the images and the bodies circulated in the right places with the right velocity, then art had become a vehicle for value accumulation in a way that required these bodies to be doing all of this work. The work comes out of trying to document that while being in the middle of it.
BL: There's another work that, when I saw it, I thought you pushed the definitions of what video art is: gesture/data (feedback). It's a series of works. In each one, you paint directly onto the surface of a flat screen monitor, in direct response to the video footage that you featured on it. That footage playing behind the painting on the screen's surface came from VHS tapes of recorded TV shows that you found in your parents' basement.
You're painting, but the work is more complex than that. You were inspired by seeing Joan Mitchell's painting entitled Wood, Wind, No Tuba from 1979 in MoMA's collection. You realized the significance between experiencing the energized strokes of physical painting made by a person and what happens when painting becomes images on this glowing flat screen. You had an "aha" moment. Also, I think when I first saw this work of yours, I was like, "Oh, man, that's a conservation headache."
KO: Actually, there's an interesting anecdote with the conservation question. When MoMA was acquiring the work, at that time I met with a painting conservator who was at that moment conserving these Sigmar Polke works that are ten-foot sheets of glass that are paintings made of basically smoke. The soot from smoke is drawn into. So when the conservator looked at my work, she was like, "I'm sorry, this is no problem. I'm literally trying to figure out how to conserve smoke on glass." The conservator was very generous and helpful in saying that. It's actually interesting, given what other kinds of artworks people have to deal with, my conservation question is quite minor.
A clear way of thinking about this work involves the physical presence on one side of the screen and the neural presence on the other side of the screen—which, of course, switches all the time, because we live in a world where we're all constantly on multiple sides of screens. Also, we're learning how to have a haptic experience via screens. In the last year, we're like, "Oh, can we have a haptic experience? We need a haptic experience. Where is it?" But I think that this tension or this problem between the haptic and the neural is something that I am constantly interested in making into a problem and mixing up, and finding new ways of making visible and experiential in the artwork.
BL: Your latest work is Vital Behaviors from 2019. We can see the evolution of your preoccupations, some of them you've already discussed. We have the moving image, the state of portrait and portraiture in today's digital format. Then we've got the ubiquity of social media and our posturing in it. To me, it's so you, as you work through all the ideas. Vital Behaviors is a very beautifully paced work in which you tasked a fashion model, who happens to be your fitness coach, with the restaging of his own poses from modeling gigs, all as a kind of language system. Tell me a little about what's behind this work and how it gets to the heart of contemporary visual culture.
KO: Like a lot of my work, this work actually emerged out of things that I was doing. At one point, I just decided to start going to SoulCycle classes. In a weird way, it's what the old version of the Club Kid does: They go to a SoulCycle class because they can't go out all night anymore.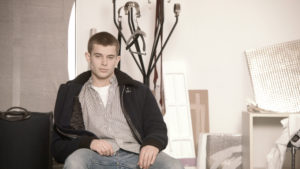 It happened to be that my instructor was this incredible actor. Actually, I don't think at the time he knew that he was an incredible actor. He was incredibly amazing at performing and evoking narrative images through basically text, through his spoken word that he would do during the classes, and his music and his DJing. We eventually started talking after class, and then at one point he said, "Oh, you're an artist, or blah, blah, blah." Then at one point he asked if I would maybe shoot him, take some photographs, because he was trying to develop his modeling portfolio some more.
I eventually realized that he looked really amazing in the moving image camera. I was trying to figure out a way to bring out this amazing thing that he's able to do on film. Then also, this is where it gets back to finding a way to deal with this problem of social media versus the way you see yourself, versus the way you would portray a masculine image versus different ways that people are asked to perform in media images.
He came over to the studio and I said, "Okay. Go through your social media feed and perform the posts in reverse chronological order." I turn the camera on. I was very attentive in my camera work and making sure everything was going right. He had made a playlist. Then after an hour, we had this incredible, basically almost narrative film. So that piece really emerged after 1,000 SoulCycle classes, but in a weird way, quite spontaneously and miraculously. I still can't believe it when I watch it—what was able to happen in the moment of arriving at this incredible performance that he was able to do.
BL: It's also because you're so present. You're behind the camera, but you come around to in front of the lens. It's very much about his action, his pose, but very clearly, it's about you and your camera.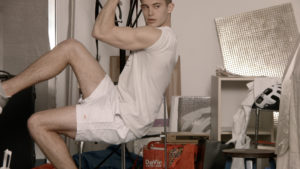 KO: At the premier, his brother came up to me and said, "I can't believe you got this thing that only I can see." I think that there's something about the, for lack of a better word, the "truthfulness" of the camera that I was able to get.
BL: Well, I think it was you and he was obviously comfortable with you. Let's move on. You've have an exhibition currently on view at the Art Gallery at the University of Hawaii. The title of the work is A Model Childhood, and it's a meditation on the fraught legacy of Japanese-American history and the so-called model minority myth in the larger context of American history.
KO: That work, which is from 2018, emerged in that very difficult cognitive headspace that most people I knew were in. This was the Trump times. Everyone wants to forget that it happened, but it continues to happen.
There had been a certain subtext in a lot of my work. It had arrived in formal and experimental processes involving fractured language, code-switching, all kinds of things. But I had never actually addressed this complex identity formation and this history directly in my work.
Actually, the whole work happened sort of semi-consciously. I went to my parents' house, and I grabbed all this stuff from the basement, which is the archive of my childhood that my parents have. They're hoarders, so they have everything, including plastic boxes with everything from my childhood in perfect order. I grabbed that, put it into a van and started driving. I put on the Google Maps. Then somehow it happened that there was the site of, as they call them, a War Relocation center, a concentration camp for Japanese-Americans. I ended up going to this site, which was in total ruins.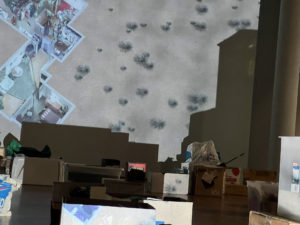 At one point, a Boy Scout project had put little signs. And at some point, people had also made a museum nearby. But the actual site itself was in complete disarray, but little nails and barbed wire and all kinds of things were still present. It was completely overwhelming, but also in a weird way, it opened up a certain strength. This was the forbidden site. People really don't know [that] for a lot of Japanese-Americans, [especially] for the generation of my father, even if it turns out that their children or their parents were in camps, you couldn't even ask if they were in a camp. You can't really talk about it, right?
So, you can never address this topic directly. This was the first time that I experienced the materiality of the site that was held over my father's generation, and then subsequently all generations, and to have to deal with this psychological void. Then I brought the work to LA, to the Reena Spaulings Fine Art gallery and made a show out of this psychological and physical journey. So now, the most expanded version of that show is in Hawaii, which is very special. In a weird way, it's about bringing the most dangerous content that I grew up with, which is the thing that you are not supposed to talk about, and it is now in an exhibition in Hawaii, ready for everyone to talk about. I'm very excited to see what happens.
BL: Congratulations. You have a lot of strength.
KO: Thank you.
BL: I have one last question that I'm asking each of the guests in the series. Given the ups and downs of the last 18 months and the struggles we've all faced in try trying to adapt, how has technology affected you and your practice?
KO: It's actually funny. So, long story short. I ended up in Berlin again, which seems to be where I go whenever there's a disaster in New York. I decided to learn the Goldberg Variations, which I've always wanted to do, play the Goldberg Variations on piano… Actually, my mother gave me a tape of Glenn Gould's 1980s recording, the second recording, when I was a teenager and that imprinted itself on me. So, each day, I would go on a bike ride and I would start learning the Goldberg Variations. I'm almost there with it.
In a weird way, my relationship to technology went back to this childhood relationship to technology, which is learning a piece of music. Then actually, it was quite exciting, because my technique had become quite rusty. Now I can really play again. I also don't want to idealize this, because it's of course horrible. I think there are many aspects of the last year, as in most war times, that we won't be able to talk about appropriately and adequately for a long time. I also stopped talking to a lot of people because everyone's brains were so fried, and lots of different weird things were happening.
I was in this final seminar of Friedrich Kittler, the German media theorist, right before his death in 2011. It was actually quite intense, because he was coughing all the time. He was very, very sick, but he gave this seminar. Then at the very end of the seminar, there were three things he told us to do. One of them was to learn this early programming language and another one was to write a poem with a pencil. I guess what I did in the last year was my version of writing a poem with a pencil, which was to learn the Goldberg Variations on the piano.
BL: Oh, fantastic. Ken, thank you. Thank you so much. I've so enjoyed talking with you.
KO: Oh, this was great, Barbara. Thank you.
Support for Barbara London Calling 2.0 is generously provided by the Kramlich Art Foundation.
Be sure to like and subscribe to Barbara London Calling so you can keep up with all the latest episodes. Follow us on Instagram at @Barbara_London_Calling and check out barbaralondon.net for transcripts of each episode and links to the works discussed.
The series is produced by Ryan Leahey, with production assistant Vuk Vuković. Web design by Sol Skelton and Vivian Selbo. Special thanks to Lee Ranaldo for graciously providing our music.
This conversation was recorded September 23, 2021; it has been edited for length and clarity.
Images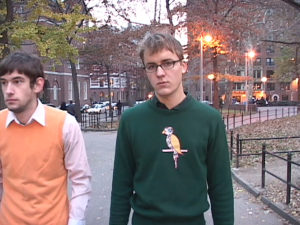 Telly & Casper
. 2000. DV (color, sound), 27 min.
Image courtesy the artist and Reena Spaulings Fine Art, NY; Pilar Corrias, London; Take Ninagawa, Tokyo.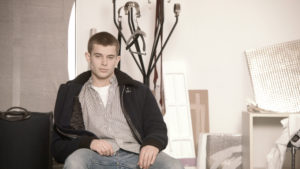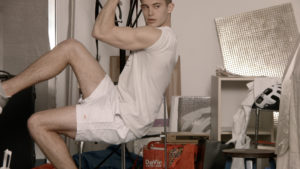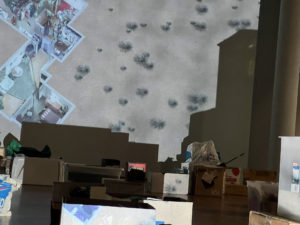 ---